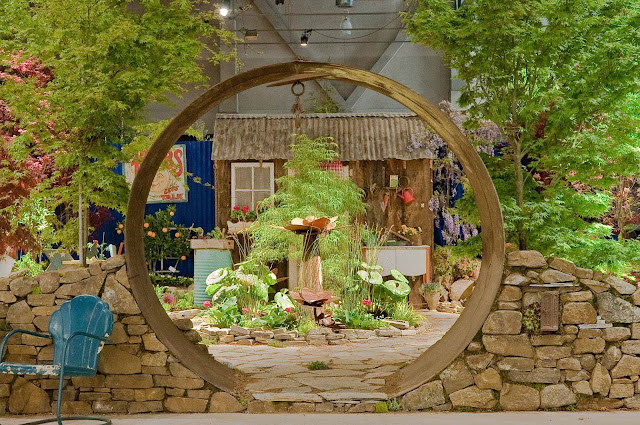 Designer gardens will again be a feature at the show in April. (Photo courtesy of San Francisco-Northern California Flower and Garden Show)
San Francisco-Northern California Flower and Garden Show set for April 2-5
After its Sacramento debut in 2019, the San Francisco Flower and Garden Show will return to Cal Expo – with a new name.
Now in its 35th year, the venerable exhibition will be the San Francisco-Northern California Flower and Garden Show. Or San Fran-NorCal, for short.
Its new website debuted this week:
www.norcalgardenshow.com
. Set for April 2 through 5, the show has expanded from one to four buildings. One whole building will be devoted to the show's plant market.
Last year, the show's future appeared in doubt when organizers suddenly had to find a new venue. At almost the last minute, the 2019 show got bumped from its traditional early spring dates at the Cow Palace in Daly City.
"Facebook paid (the Cow Palace) $1 million for our dates," says show owner Sherry Larsen. "It was really brutal. We had only two months to put together (a move). We were really scrambling."
Cal Expo had spring dates available, and the San Francisco Flower and Garden Show moved east. Although a fraction of its usual size, the show stayed alive.
After decades at the Cow Palace plus a few years at the San Mateo County fairgrounds, the show is now focused on a future inland in Sacramento, Larsen says. That includes building bonds with local gardening programs and experts.
For example, Sacramento's Yisrael Family Farm is taking part in planning locally sourced cooking demonstrations. The Sacramento Valley Flower Collective will supply blooms for daily workshops. Luther Burbank High School's urban agriculture program will be among local success stories sharing the show's spotlight.
"Last year, we did what we could do in the short time we had," Larsen says. "This year, we had a whole year to get ready."
Expect the big designer gardens with theatrical lighting that had been the show's hallmark to return, Larsen says. Among the featured designers will be Kent Gordon England of Sonoma.
Highlighting a full schedule of speakers will be urban farmer Stephen Ritz, founder of the Green Bronx Machine. The New York educator has brought gardening know-how to classrooms and communities nationwide.
"Kellogg's will be sponsoring our garden stage and hosting daily 90-minute garden boot camps where people can get their hands dirty while learning the basics," Larsen adds. "They'll go home with a box full of plants and everything they need to get their vegetable garden growing."
Other workshops will stress hands-on experience, too. Says Larsen, "You learn quicker when you put your hands on it.
"We're getting a real good line-up of speakers," she adds. "One more year, our roots will be firmly down."