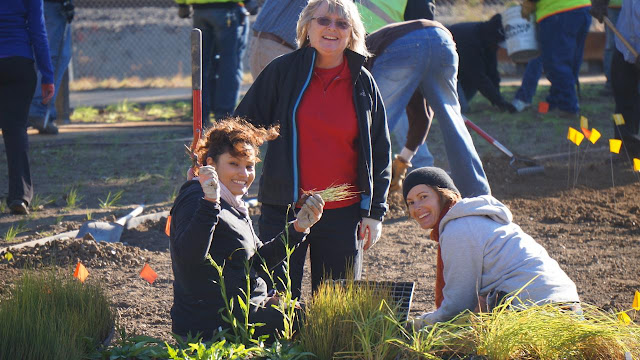 Volunteers learn about native plants while working on public spaces at the UC Davis Arboretum's GATEways gardens. (Photo courtesy UC Davis Arboretum)

UC Davis Arboretum hosts hands-on event Feb. 21
Interested in native plants? Here's a hands-on opportunity that benefits both the gardener and Davis gardens – plus your garden, too.
Volunteers are needed to tackle the native plant gardens that form a gateway into the UC Davis campus as well as along the adjacent city greenbelt. From 9 a.m. to noon Friday, Feb. 21, volunteers will learn about habitat restoration, native grasses and wildflowers while working on these native spaces.
Emily Griswold, the arboretum's director of GATEways horticulture and teaching gardens, will lead Friday's work session. "Learn how to identify different plant seedlings, and pull weedy plants to help our native plants thrive and flourish this spring!" say the organizers.
Meet at the shovel sculpture next to the Davis Commons parking lot. Gloves, tools and training will be provided. Be prepared for possibly muddy conditions.
To sign up and learn more, go to:
https://arboretum.ucdavis.edu/events/volunteers-needed-native-plant-care
Details and directions:
arboretum.ucdavis.edu