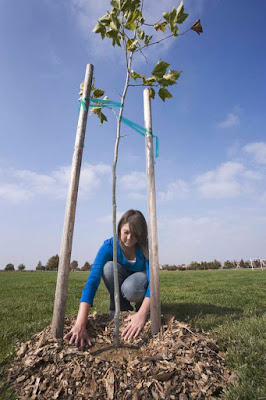 Add mulch now to help trees later.
(Photo courtesy Sacramento Tree Foundation)
Despite dry weather, hold off on irrigation a little longer
Is it time to turn on the sprinklers? Check the soil before you water.
So say Sacramento irrigation experts. Despite our unusually dry February, the ground retains moisture and plants may not be as thirsty as we think.
"With the weather recently being unseasonably warm, we urge people to actually check soil moisture with a moisture meter, screwdriver or by using a hand shovel to dig down six inches to feel the soil," says Amy Talbot, water efficiency project manager for the Regional Water Authority. "It might be warmer than usual and the soil might look drier on the surface, but the days are still shorter and the nights very cool with moisture in the air.
"It's likely your landscape does not need to be watered, but the only way to know for sure is to check. If your landscape does need water, we recommend hand watering so that you deliver water only to the plants that really need it."
The RWA is the umbrella organization over 24 water providers in the greater Sacramento area. We're in the midst of a very dry streak with no measurable precipitation in nearly four weeks.
Is this the start of another drought? Too early to tell, say experts. But it's not too early to get your home and garden water smart.
Now is a good time to prepare for dry and hotter weather to come. Summer will be here before we know it.
"Here are some tips for what customers can do right now to prepare their landscape for hotter days and make the most of every drop," Talbot says.
1. Tune up sprinklers and drip irrigation by turning them on one zone at a time and looking for broken, clogged or missing sprinkler heads or drip lines.
2. Consider upgrading traditional sprinklers with high-efficiency rotator sprinklers, "which can help you use 30% less water every time you turn on your sprinklers and have healthier plants," Talbot says. "Rotator sprinklers deliver heavy droplets of water at a slower rate that is more easily absorbed by the soil."
3. To your soil, add plenty of compost and amendments to increase the nutrients available to your plants. "These act as a soil sponge, absorbing and holding water," she adds.
4. Layer the mulch, "which is like icing on a cake, because it keeps the soil moist the way icing keeps a cake moist," Talbot says. "Mulch slows evaporation, allowing water to sink into the soil, moderates soil temperature and breaks down into nutrients for plants. We recommend adding two to three inches of organic mulch around trees and plants."
More information:
www.rwah2o.org
.