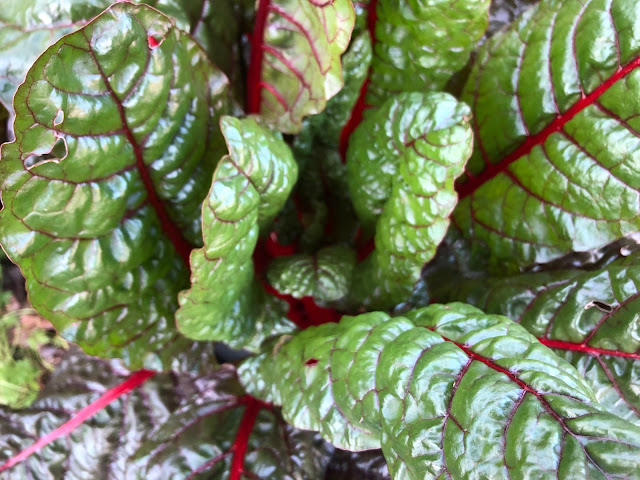 This chard plant just keeps growing and thriving despite the gardener's lack of attention.
(Photos: Kathy Morrison)
Recipe: Classic brunch dish uses this easy plant to grow and to cook
When I get asked whether I'm growing a winter garden, I usually answer, "No — not enough time or light." Then I remember the red chard plant.
I plopped this plant and another, a yellow-stemmed one, into pots when they were just 4-inch babies. And I put them in separate somewhat shaded areas of my backyard. The yellow-stem one isn't much bigger than when it went into its pot, but this red-stemmed plant is a beauty: Long stalks and lush, full leaves, the latter easily 10 inches long.
I have done exactly nothing to help this plant reach this state. It literally has thrived on neglect, and enough winter rainfall.
Now if only I could remember to cook with it more. It cooks like spinach, after all, and is so nutrient-dense: Loads of vitamins A, C and K, along with iron, magnesium, calcium and potassium, to name a few.
This frittata is one recipe I've found and liked. I adapted a version of Alice Waters' that I found at
lettyskitchen.com
. Frittatas are wonderfully versatile, so switch out the mushrooms, add more cheese, or more herbs if you like. But don't forget the chard!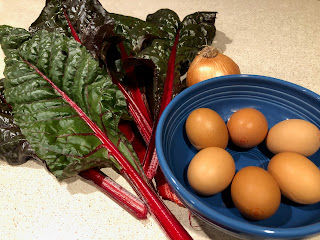 These are the basic frittata ingredients. Add mushrooms, cheese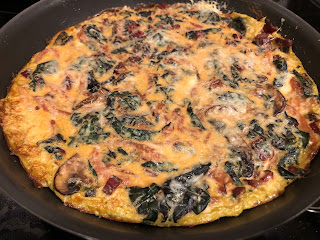 The finished dish, appropriate for any meal.
Chard and onion frittata
Serve 4-6
Ingredients
:
8 stalks chard, washed thoroughly
Extra virgin olive oil
1 onion, thinly sliced
4 cloves garlic, minced
5-6 mushrooms, stemmed and sliced (optional)
Sea salt
6 eggs
Freshly ground black pepper
1/2 teaspoon dried basil, thyme or herb of your choice
Cayenne pepper (optional)
3 tablespoons grated Parmesan or other cheese
Instructions
:
Remove the thick part of the stalks from the chard. Slice the leaves and tender part of the stalk no wider than about 1 inch. Chop up about half of the thicker stalk pieces, save the remainder for another project, if desired. (Pickle them, perhaps?) You should have about 6 cups of leaves and small stalk pieces.
Heat 1 tablespoon of the olive oil in a 10-inch nonstick skillet. Add the onion and saute a few minutes, until the slices begin to soften. Stir in the stalks; the onion will pick up some of the color, but that's OK.
Once the stalks start to cook, add the mushroom slices, if using, Then add the garlic and cook another few minutes. Finally, add the chard and a pinch of salt. It will look like a lot of leaves, but don't worry, they will shrink down plenty after a few minutes. Continue cooking until all the leaves are wilted. Remove from heat and let cool while you prepare the eggs.
Crack all the eggs into a large bowl, then add 1/8 teaspoon salt, 2 teaspoons of olive oil, some grinds of black pepper, the 1/2 teaspoon (or more) of herbs, and, if desired, a pinch of cayenne. Beat lightly with a fork or whisk. Then stir the chard mixture into the eggs.
Preheat the broiler on the oven. Wipe out the skillet, and put it back over medium-high heat. Add 2 tablespoons olive oil and swirl it around in the pan. Once the oil starts to heat up, pour in the egg mixture. As the eggs set on the bottom, tip the pan to allow the uncooked egg to slip underneath. Continue cooking until the frittata is set but still slightly jiggly on top. Remove from heat and sprinkle the cheese over the top. Slide the pan under the broiler, watching it carefully, and remove once the cheese is melted and golden.
Slide the frittata out of the pan onto a large plate, and cut into wedges to serve. This is a great brunch dish, but can be a fine dinner with the addition of a salad and fresh bread.