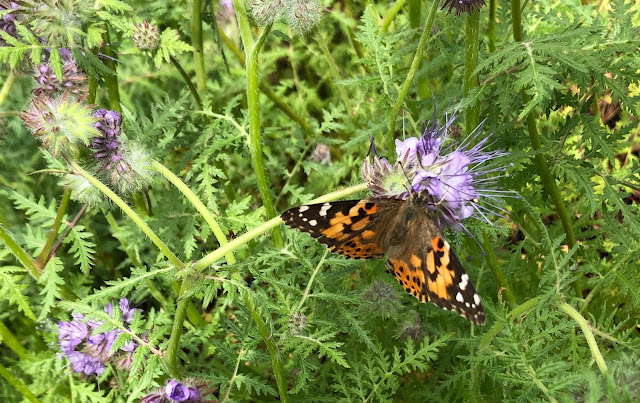 A painted lady butterfly finds happiness on a lacy phacelia, which is a California native plant. (Photo: Kathy Morrison)
Free workshop in Davis on creating pollinator habitats
How many bees, birds and butterflies visit your garden every year? It's not hard to increase those numbers and benefit the natural community of your neighborhood at the same time.
The UCCE master gardeners of Yolo County will present a free public class on pollinators
9:30 to 10:30 a.m. this Saturday, Feb. 29, at the Central Park Gardens, corner of Third and B streets in Davis.
Participants can learn about the pollinators they are likely to see in landscapes and get some tips on how to create a habitat to support them. Information on native bees, hummingbirds and butterflies will be included, as well as plants and garden features that help them thrive. (Did you know bees need water sources, too? But big fountains don't work for them -- shallow ones with a resting place are better.)
The Yolo master gardeners this weekend are busy as, well, you can guess. Also on Saturday, Feb. 29,  from 11 a.m. to noon, again at the Central Park Gardens, they will present "Early Start on Summer Vegetables." Get tips on planning a summer vegetable garden, methods of starting seeds, caring for seedlings, and identifying common pests and the least toxic solutions to them.
Finally, four of the master gardeners will offer a class on "Make Your Soil Come Alive," which focuses on improving the health of your soil by working with natural processes. This workshop will include a discussion of the web of life that is in healthy soil and will look at the use of compost, amendments, mulches and healthy fertilizers. It runs from 10:30 a.m. to noon in the Blanchard Room of the Stephens Davis Library, 315 E. 14th St., Davis.
Information on all the Yolo master gardener offerings can be found at
yolomg.ucanr.edu
.
And just as a reminder, this Saturday also is Camellia Day at the historic Murer House in Folsom. Our earlier post on this annual event can be found
here
.
-- Kathy Morrison