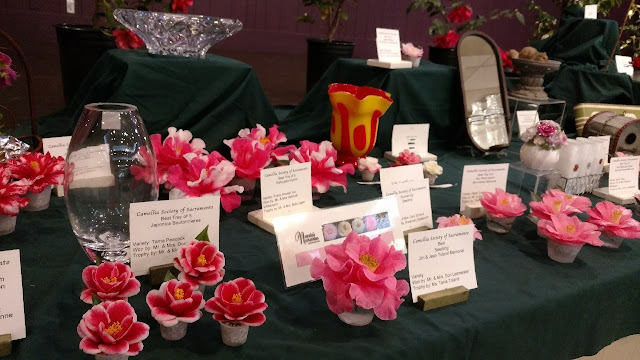 Trophy table at the 2019 Sacramento Camellia Show features many beautiful blooms. (Photo: Debbie Arrington)
96th annual Sacramento Camellia Show this weekend
"We need to tell everybody, 'Bring all your camellias! Bring in your flowers!'" said Julie Vierra, co-chairman of the 96th annual Sacramento Camellia Show. "Somebody must have some camellias left."
This weekend, Sacramento celebrates its official flower. But recent warm weather has pushed many blooms over the top.
Several local members of the Camellia Society of Sacramento saw their flowers open weeks ahead of the show, the nation's largest devoted to camellias. Hundreds of blooms usually line the exhibition tables. Public entries are welcome – particularly this March.
"With this hot weather, bushes are popping them out so fast, it's scary," said Vierra, whose garden was in full bloom two weeks before the show. "Thank goodness, we're cooling down at night – but not enough."
Set for Saturday and Sunday, March 7 and 8, the camellia show will be held for the second time at the Elks Lodge, 6446 Riverside Blvd., Sacramento. Entries will be accepted from 7 to 10:30 a.m. Saturday; beginners should make sure to get there before 9 a.m.
Even if you've never entered a flower show before, this may be the time to try. Camellias should be home grown (no fair raiding local parks or businesses). Members of the Camellia Society will help first-time exhibitors with set up and placement. They'll identify camellia varieties, too.
For show entries, cut the camellia with about 4 to 6 inches of stem. (It will be trimmed down for display). Keep a couple of leaves on the stem, too. Carry the camellias to the show with their stems in water.
After judging, the show will be open to the public from 3 to 6 p.m. Saturday and 10 a.m. to 5 p.m. Sunday. Admission and parking are free,
Among the highlights will be a salute to
Nuccio's Nurseries
, California's legendary camellia hybridizer and grower. Dozens of bushes from Nuccio's will be offered for sale.
This year's commemorative show pin features a white camellia introduced by the famous hybridizer: Nuccio's Gem.
Details:
https://camelliasocietyofsacramento.org/