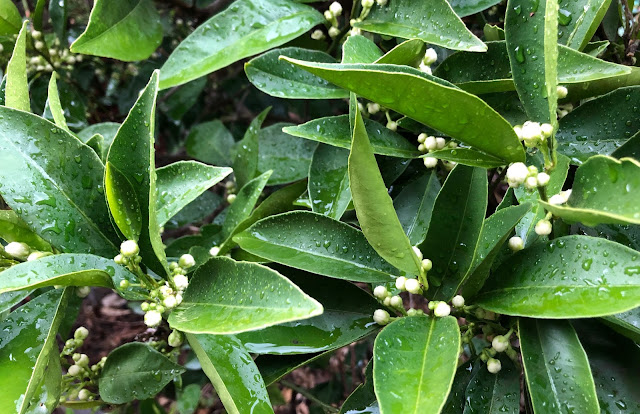 This navel orange tree got a nice shower from the rain today. The buds will be bursting open soon, so it's a good time to fertilize. (Photo:
Kathy Morrison)
Rain finally returns to Sacramento; prepare for busy season ahead
The rain finally came! After six solid weeks of dry weather, measurable precipitation arrived Saturday. It's nowhere near a March miracle, but it was some welcome moisture.
Check your soil to see how far the rain penetrated. Chances are you still may need to irrigate. The rain also may have missed pots and garden strips under eaves; water them, too.
Early March is prepping time. Get your garden ready for the busy spring to come.
* Fertilize roses, annual flowers and berries as spring growth begins to appear.
* Pull weeds now! Don't let them get started. Take a hoe and whack them as soon as they sprout.
* Prepare summer vegetable beds. Spade in compost and other amendments.
* Prune and fertilize spring-flowering shrubs after bloom.
*Feed camellias at the end of their bloom cycle. Pick up browned and fallen flowers to help corral blossom blight.
* Feed citrus trees, which are now in bloom and setting fruit. To prevent sunburn and borer problems on young trees, paint the exposed portion of the trunk with diluted white latex (water-based) interior paint. Dilute the paint with an equal amount of cold water before application.
* Cut back and fertilize perennial herbs to encourage new growth.
* In the vegetable garden, transplant lettuce and cole family plants, such as cabbage, broccoli, collards and kale.
* Seed chard, beets and radishes directly into the ground.