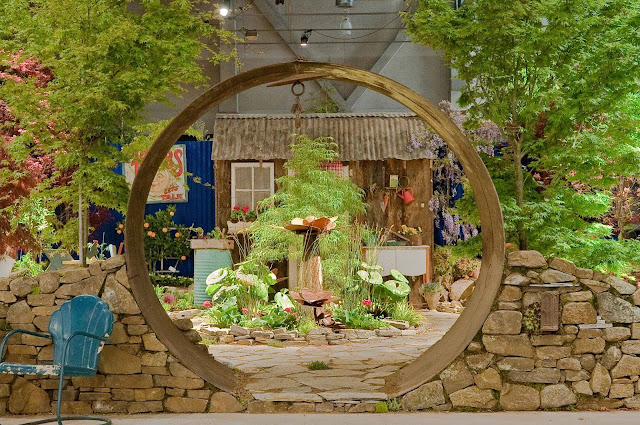 Designer gardens are a big attraction at the San Francisco/Northern California Flower and Garden Show. Those displays will have to wait until 2021 after Tuesday's cancellation. (Photo courtesy Cal State Shows)
Set for Cal Expo, huge NorCal event will wait until 2021
Coronavirus fears canceled a top event on Northern California's gardening calendar.
Less than a month before its scheduled Cal Expo return, the
36th annual San Francisco/Northern California Flower and Garden Show
will not go on, said producer Sherry Larsen.
"Look at our demographics; many of our patrons are in the vulnerable group," she said. "Exhibitors are traveling from as far away as Maine. We've got three weeks to go. We don't know where we'll be at that time. We had to look at the potential impact."
Larsen officially made the call Tuesday, informing her vendors and exhibitors of their options. One of Northern California's largest events of its kind, the show expected to fill four buildings on the State fairgrounds. Set for April 2 through 5, it was making its second appearance at Cal Expo.
After nearly a year of planning for
the April show
, the cancellation happened rather quickly.
"One major group pulled out and that heavily impacted us," Larsen said. "They had a 30- by 100-foot (demonstration) garden, an after-hours event and were host of a stage.
"We got calls from gardening groups," she added. "Many members wouldn't volunteer; they were afraid to be with the public. It's true concern. Who knows what will happen?"
Instead of requesting refunds, most participants are choosing to roll over their reservations until next year, Larsen said. "Right now, we're getting a real good response. Everybody says, 'We're there next year!'
"Everything will be OK," Larsen said. "I'm excited – I've got another year to promote."
More updates and details:
www.norcalgardenshow.com
.