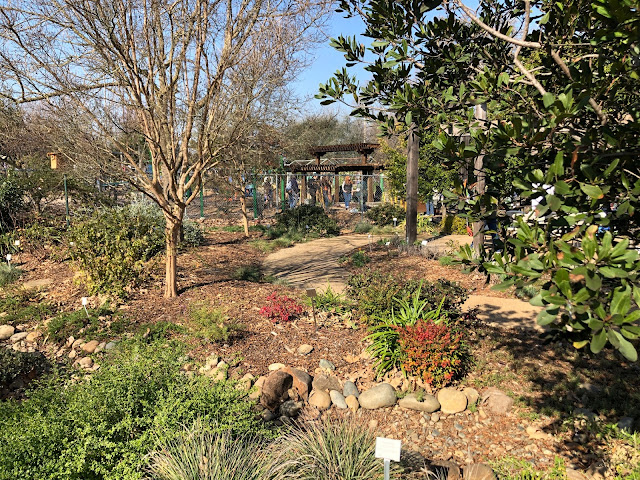 The Water-Efficient Landscape is a key feature of the Fair Oaks Horticulture Center. (Photos: Kathy Morrison)
Note: This evening the UCCE master gardeners announced the cancellation of this Open Garden.
Master gardeners plan precautions for outdoor event
The March Open Garden is still scheduled for 9 a.m. to noon this Saturday, March 14, at the Fair Oaks Horticulture Center.
The UCCE Sacramento County master gardeners plan to take extra hygiene precautions for this popular event, which is free and open to the public. Open Gardens are rain-or-shine events.
The Fair Oaks Horticulture Center is the master gardeners' demonstration garden,  where home gardeners can soak up information on orchard practices, vegetable and herb gardening, growing berries and grapes, planning a water-efficient landscape and composting.
Mini-demonstrations are planned at 10 a.m. on these topics:
-- Container gardening, in the Water-Efficient Landscape area.
-- Debugging orchard irrigation, in the Orchard.
-- Propagating herbs, in the Herb garden.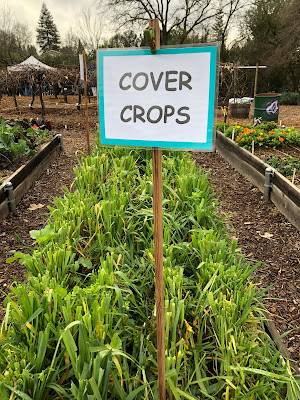 A mini demonstration will be held on cutting down and
turning over cover crops. (This is the 2019 Vegetable
-- Cutting down and turning in cover crops, in the Vegetable Garden.
Ongoing activities will cover such topic as best tools for orchard care, edible flowers in the herb garden, testing soil pH for berries, vegetable garden pest management, pruning young grapevines, and composting with worms.
The event is due to run until noon.
The 2020 Gardening Guide and Calendar will be on sale for $10.
Bring gardening questions (and bagged samples of problem pests or plants if pertinent) to the "Ask a Master Gardener" table.
The Horticulture Center is at 11549 Fair Oaks Blvd., in the park south of the Fair Oaks Library. Because of the changing health situations in California, be sure to check on the status of this (and actually any event) before leaving to attend. The Open Garden information site is
here
. Or call (916) 875-6913.
Canceled events this weekend include the
UC Davis Arboretum Plant Sale
and High-Hand Nursery's
Wings & Wine
gathering.
The
Shepard Garden & Art Center Spring Sale
is still scheduled for this Saturday and Sunday. Check information on the event
here
.
-- Kathy Morrison