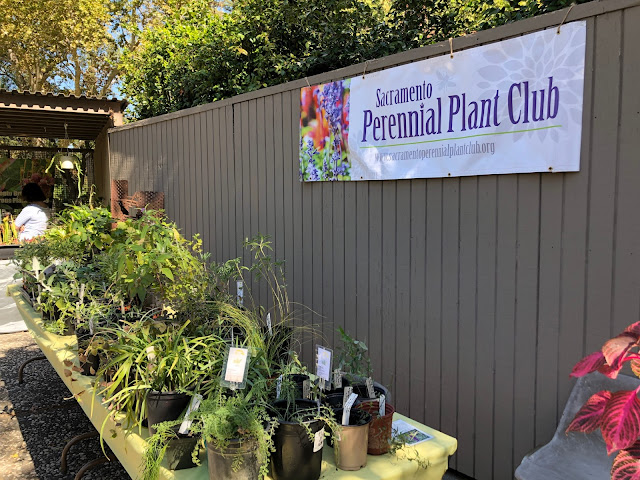 The Sacramento Perennial Plant Club will be at the Shepard Spring Sale
this weekend, but the group's
own Gardener's Market,
set for March 21, has been canceled.  (Photo: Kathy
Morrison)
Other events canceled due to coronavirus concerns
This may be your last public gardening event for a while – unless it gets canceled, too.
Organizers of this weekend's Spring Sale at Shepard Garden and Arts Center say that their popular event will go on as planned.
Set for 10 a.m. to 4 p.m. Saturday and Sunday, the event features plants, flowers, jewelry, arts and crafts, antiques, books and more. Admission and parking are free.
Representatives of the two dozen clubs that call Shepard Center home will be on hand to talk about their organizations as well as share their wares.
In light of coronavirus concerns, participants will practice "social distancing," with tables well spaced apart. Surfaces will be repeatedly wiped down and kept clean as possible. Hand sanitizer will be available.
Shepard Center is located at 3330 McKinley Blvd,, Sacramento, in McKinley Park. For last-minute updates, click on
www.sgaac.org
or call 916-823-5500.
Among the groups that plan to participate in this weekend's sale is the Sacramento Perennial Plant Club. On Thursday night, that club canceled its own big event – the 17th annual Gardener's Market, which had been set for March 21 at Shepard Center.
Other weekend events either canceled or postponed include the Sacramento County master gardeners' Open Garden, which was set for Saturday morning at the Fair Oaks Horticulture Center, and High-Hand Nursery's annual Wings & Wine fundraiser to support native birds.
"After much thought, we have decided to postpone Wings & Wine," wrote nursery owner Scott Paris. "Postponing this much anticipated event is a very hard choice for me to make. But public safety is my number one concern above all. I'd rather lean on the side of caution.
"We will be issuing refunds to those of you that have bought tickets. Please give us a few days as we work out the details of processing refunds back to you."