Coronavirus strikes at worst time for spring-oriented businesses
For nurseries, the timing could not be worse.
March is to nurseries what Christmas is to other retailers: It's traditionally their busiest time of the year.
Most nurseries depend on brisk early spring sales to stay in business.
So, what happens during coronavirus crisis?
It depends on the individual nursery. It's also a fluid situation that is changing daily.
Most of our local nurseries are trying to stay open at this time. The Plant Foundry in Oak Park and Big Oak Nursery in Elk Grove are both keeping their gates open to the public.
"Fresh air and sunshine may be the answer? Come out to the nursery!" Big Oak posted on Facebook (
@BigOakNursery
).
"We will remain open and keep you updated as often as possible," Angela Pratt of The Plant Foundry posted on her nursery's website,
www.plantfoundry.com
.
High-Hand Nursery (
www.highhandnursery.com
) in Loomis canceled its big Wings and Wine fundraiser but is still selling plants and supplies.
Fair Oaks Boulevard Nursery
also is open and offering curbside pickup. "We believe that retail nursery businesses fit into the 'essential' category, since garden centers are part of the food production chain," the nursery posted on its
Facebook page
.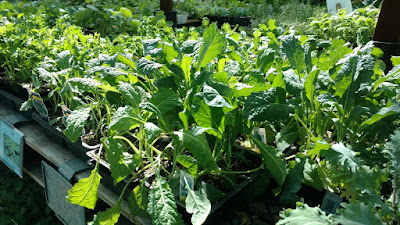 Veggie transplants await customers at Green Acres.
(Photo: Debbie Arrington)
Green Acres Nursery & Supply, which operates the five largest nurseries in our area, is staying open, at least for now. It's also asking gardeners to browse their stock online at its website,
www.idiggreenacres.com
, for quick pick-up at its sites.
"At Green Acres Nursery & Supply, we are taking Coronavirus – COVID-19 – seriously and would like you to know what you can expect from our family as we take safety precautions and make adjustments for the benefit of our community, our customers, and our employees," wrote owner Mark Gill. "We are currently open during our normal spring business hours, and evaluating our hours daily. Please check our website for updates."
Gill pointed out that nurseries are unique businesses. They're outside and naturally conducive to "social distancing."
"Our nurseries sit on acres and acres of open space," he wrote. "Customers can shop where there's plenty of room for required social distancing – two arm's-lengths or a minimum of six feet. When paying us a visit we request that you be mindful of fellow patrons and follow this ever important rule."
The positives of gardening make it a worthwhile pursuit, perhaps especially during these trying times.
"Gardening is therapeutic; it offers fresh air, exercise, a sense of accomplishment, reduces stress, and so much more," Gill added. "Spring is in the air, and we hope to help make your additional time at home better by providing you with ways to take advantage of the benefits of gardening."