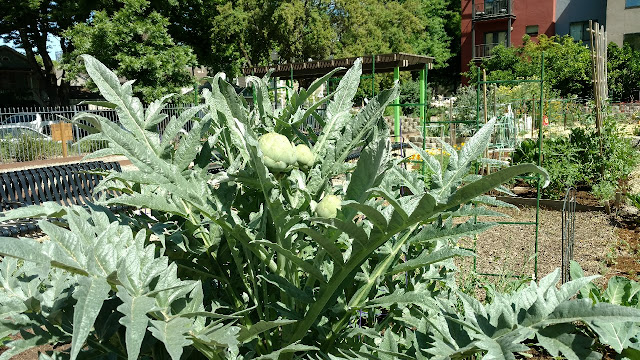 Artichokes don't stop growing during a shutdown. Community gardens such as Fremont in midtown Sacramento are staying open. (Photo: Debbie Arrington)
Gardeners can keep their plots growing during coronavirus crisis
In the greater scheme of our new normal, gardening is essential.
As a food source and open space, Sacramento's community gardens are being allowed to stay open to members during the current coronavirus shutdown.
"The (community) garden is considered a park and open space," explained Bill Maynard, the City of Sacramento's community gardens coordinator. "Also in some ways, (the garden is) a food store, so you can go to it."
Gardeners are asked to be mindful of social distancing – stay at least 6 feet away from other people while pulling weeds or watering veggies. That shouldn't be a problem; gardening tends to be a solo activity in general.
Maynard asked that gardeners also use some other precautions, such as bringing their own gloves or tools.
"Wear gloves when using the common tools," he said. "Wear gloves when touching common things like locks, tables, etc. Wash your hands often! Don't touch your face."
Besides the food, community gardens also give gardeners a chance to exercise outside, offering both mental and physical benefits during these stressful times.
On the practical side, gardens need consistent care. If left alone for several weeks during this crisis, weeds would take over and there would be much more work to tackle later on. So, Sacramento is encouraging community gardeners to maintain their plots and pull the weeds.
Like many city employees, Maynard will be off work for the next two or three weeks. But he'll still be gardening.
"Take care and be healthy," he said. "Eat your veggies!"