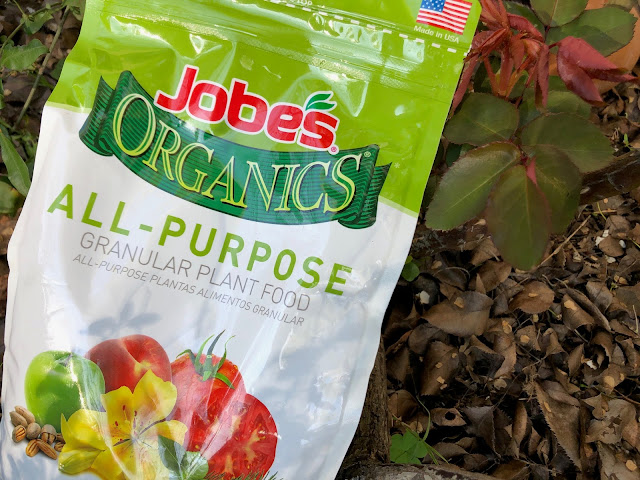 A balanced fertilizer -- this one is 4-4-4 -- will give roses and other plants the nutrients they need this spring. (Photo:
Feed your garden; it's hungry
Sunny and bright, this first weekend of spring will inspire you to get outside. Right now, your garden seems to change daily. Temperatures in the low 70s prompt plants to grow rapidly.
It's still too early to transplant tomatoes; nights are dipping down into the low 40s – way below the tomato comfort zone. So, wait on the summer veggies and concentrate on the season at hand.
All that growth has made your plants hungry for more nutrients. Feed your garden – but not too much – and build your soil for a productive harvest. Instead of quick-fix chemical fertilizers, stick to slow-release formulas or good old compost. That will help build strong new growth that's less attractive to aphids.
Rain predicted for Monday and Tuesday will help soak those nutrients into the soil.
* Feed citrus trees, which are now in bloom and setting fruit. To prevent sunburn and borer problems on young trees, paint the exposed portion of the trunk with diluted white latex (water-based) interior paint. Dilute the paint with an equal amount of cold water before application.
* Feed roses with a balanced fertilizer (such as 10-10-10, the ratio of nitrogen, phosphorus and potassium available in that product).
* Prune and fertilize spring-flowering shrubs and trees after they bloom. Try using well-composted manure, spread 1-inch thick under the tree. This serves as both fertilizer and mulch, retaining moisture while cutting down on weeds.
* Seed and renovate the lawn (if you still have one). Feed cool-season grasses such as bent, blue, rye and fescue with a slow-release fertilizer. Check the irrigation system and perform maintenance. Make sure sprinkler heads are turned toward the lawn, not the sidewalk.
*Feed camellias at the end of their bloom cycle. Pick up browned and fallen flowers to help stop blossom blight.
* Cut back and fertilize perennial herbs to encourage new growth.
* Pull weeds now! Don't let them get started. Take a hoe and whack them as soon as they sprout.
* Prepare summer vegetable beds. Spade in compost and other amendments.
* In the vegetable garden, transplant lettuce, cabbage, broccoli, collards and kale.
* Seed chard and beets directly into the ground.
* Plant summer bulbs such as gladiolus, tuberous begonias and callas, plus dahlia tubers.

* Transplant perennials.