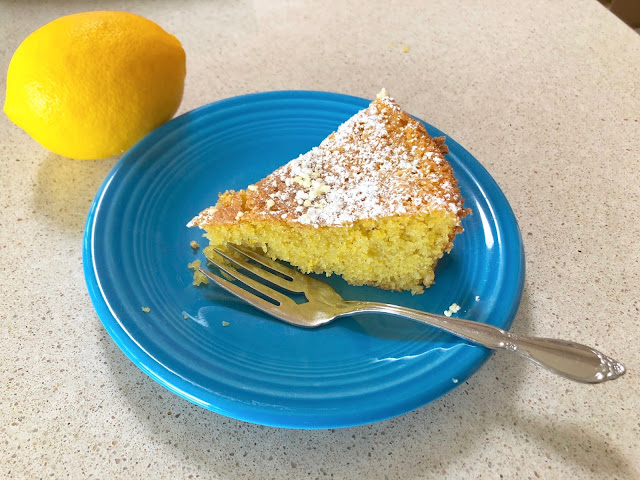 A Meyer lemon gives this cake a subtle flavor. (Photos: Kathy Morrison)

All of a sudden I'm hyper-aware of how much flour I have. Eggs and butter, too. I'm a regular baker, and during this shelter-in-place era I don't want to run out of ingredients. And I seriously don't want to try looking for them when supermarket shopping has become a health concern.

How to keep baking, then, without using everything up too quickly? I dove into my cookbooks and emerged with a treasure I'd almost forgotten I owned: " A New Way to Bake, " a 2017 publication from Martha Stewart. The subtitle is "Classic Recipes Updated With Better-For-You Ingredients from the Modern Pantry."

These well-tested recipes use alternative flours and grains, different fats and some vegan ingredients in cakes, pies, cookies, breads and other goodies. They're not all gluten-free, and only some are vegan, but for a baker who's looking to use alternate -- and maybe more-available -- ingredients, the recipes are a gold mine.

This homey cake is based on the classic Italian olive oil-cornmeal torte. The fresh lemon provides a little spark, while the almonds and cornmeal give it a rustic texture. I used a Meyer lemon from my tiny tree, but that single sweet lemon proved a little too subtle in this recipe. So I recommend using the zest from one tart lemon or two Meyers if you really want the lemon to come through.

Served with just a sprinkle of powdered sugar, this makes a lovely breakfast cake. For dessert, fresh berries or a quick berry sauce would go beautifully with this -- blackberries or blueberries, especially. But don't ignore what you have in your larder: Lemon curd or a pool of gently warmed preserves or fruit butter would make a delicious accompaniment.
Lemon-almond cornmeal cake
Adapted from "A New Way to Bake" by Martha Stewart
Serves 6-8

Ingredients:

Olive oil for pan
1/2 cup milk (almond or dairy)
Finely grated zest from 1 or 2 lemons (see note above)
Juice from 1 lemon
1-1/2 cups blanched almonds, finely chopped, or 1-1/2 cups almond flour, or a combination
3/4 cup granulated sugar
1 cup fine yellow cornmeal
1-1/2 teaspoons baking powder
1/2 teaspoon baking soda
1/2 teaspoon coarse salt
3/4 cup extra virgin olive oil
3 large eggs, room temperature
1 teaspoon almond extract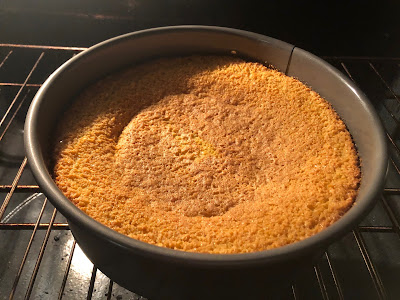 Nicely golden brown, the cake's ready
.

Powdered sugar, for dusting
Berries or other garnish, optional

Instructions:

Preheat oven to 325 degrees F. (An earlier version of this post said 350 degrees, which is still fine; the cake will brown up a little faster, however.) Oil a 9-inch springform pan. In a bowl or glass measuring cup, combine milk and lemon juice; let it stand until thickened, about 5 minutes.

In food processor, pulse the lemon zest, almonds and/or almond flour and the sugar until they have an evenly fine texture. Transfer mixture to a large mixing bowl and stir in the cornmeal, baking powder, soda and salt.

Add the oil, eggs and almond extract to the milk mixture, blending well with a whisk or fork to combine. Stir the liquid mixture into the cornmeal mixture.

Pour the batter into the prepared pan. Bake, rotating pan halfway through, until cake is golden and a toothpick inserted in the center comes out clean, about 55 minutes.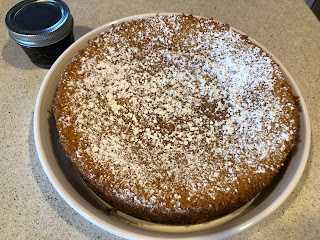 Powdered sugar is the final touch.