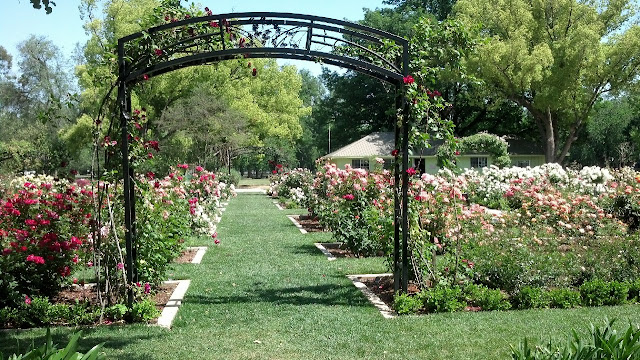 The beloved McKinley Park Rose Garden needs volunteers to weed and mulch it. (Photos: Debbie Arrington)
McKinley Park's beloved rose garden could use some TLC
Gardens keep growing, whether or not someone is there to care for them.
When that garden is a public landmark dependent on volunteer help, that situation can quickly become problematic.
Home to about 1,200 bushes, McKinley Park's beloved Memorial Rose Garden needs some TLC. Usually, the 1.5-acre garden on H Street near 33rd Street in East Sacramento has no shortage of helping hands – especially this time of year. Early spring weather prompts rapid growth. Thousands of buds have formed and are about to burst into bloom.
But weeds are growing even faster in the rose beds. If those weeds are not tackled now and the beds mulched, the formal rose garden can turn raggedy in a hurry.
This week, McKinley Park rose garden coordinator Lyn Pitts put out a plea for volunteers to help as they can when they can, practicing social distancing and spacing themselves apart from others. (Such garden chores count as necessary outdoor exercise and the city park is still open to the public.)
Pitts emailed past volunteers to enlist their help. "Sure wish I could call together another volunteer event, but just can't bring any of you guys into harm's way by assembling a group together," Pitts wrote. "But there are still plenty of things to do at the Rose Garden that you great volunteers can still do to help!"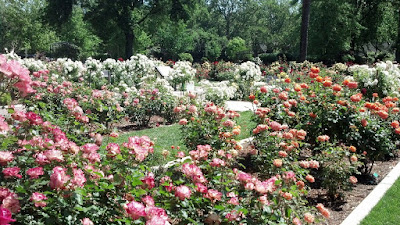 The rose garden is home to 1,200 bushes.
Pitts has a long list of beds that need weeding or mulch as well as other garden chores. (Recent rain makes pulling out the nutgrass much easier.) And even though no group events are planned, volunteers can still tackle assignments.
To take part, email Pitts directly at
lynpitts@comcast.net
.
Considered one of the most romantic spots in Sacramento, the McKinley Park rose garden usually hosts weddings almost every weekend during the late spring and summer. Those events will pick back up once large gatherings are allowed again. Pitts wants to assure that the garden will be ready.
Some roses are already in bloom, particularly one large climber.
"(Longtime volunteers) Bill and Mary Kuyper pruned our Lady Banks rose and did such a fantastic job, it looks great right now," Pitts said. "Come see it!"