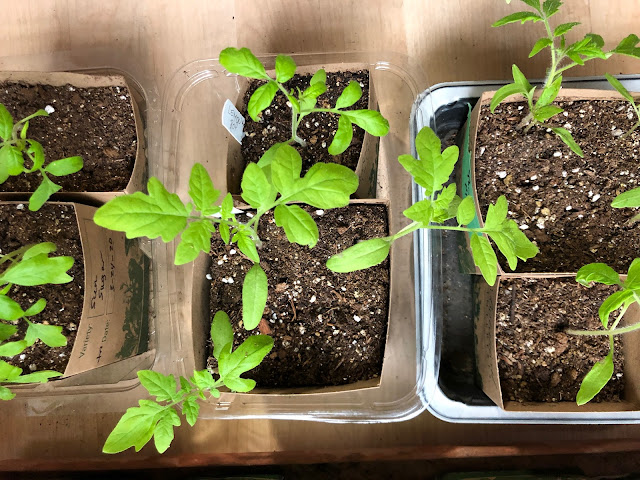 Tomato seedlings wait inside for better planting weather, likely in late April. (Photo: Kathy Morrison)
Wait on tomato transplants; tackle weeds now
March has thrown us all sorts of surprises – including weather. After warm days with high temperatures 10 degrees above normal, we're plunged back into frosty nights and drizzly days.
Hold off on transplanting warm weather favorites. Your tomato, pepper and squash seedlings will not like those chilly nights.
In the meantime, concentrate on preparing for a busy spring:
*Tackle weeds immediately. Get them out before they bloom and become a real nuisance. The soft soil will make them easier to extract.
* Late March and April are the last chance to plant citrus trees such as dwarf orange, lemon and kumquat. These trees also look good in landscaping and provide fresh fruit in winter.
* Smell orange blossoms? Feed citrus trees with a low dose of balanced fertilizer (such as 10-10-10) during bloom to help set fruit. Keep an eye out for ants.
* Apply slow-release fertilizer to the lawn.
* Thoroughly clean debris from the bottom of outdoor ponds or fountains.
* Spring brings a flush of rapid growth, and that means your garden is really hungry. Feed shrubs and trees with a slow-release fertilizer. Or mulch with a 1-inch layer of compost.
* From seed, plant beets, carrots and radishes. Plant onion sets.
* Transplant lettuce and cabbage seedlings.
* In the flower garden, plant seeds for asters, cosmos, celosia, marigolds, salvia, sunflowers and zinnias.
* Plant perennials and dahlia tubers for summer bloom.