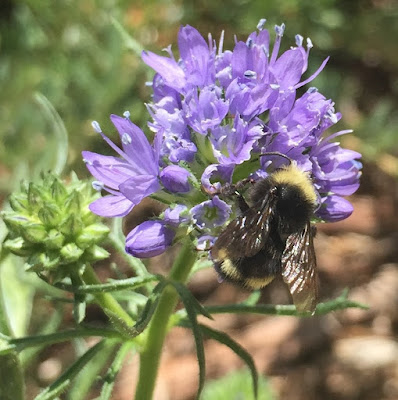 Bees love spring, when the native plants start blooming. (Photos courtesy
Sacramento Valley chapter, California Native Plant Society)
Popular tour gets creative during coronavirus precautions
Gardens Gone Native is going virtual.
Instead of canceling this popular Sacramento-area garden tour, organizers decided to create an online equivalent, keeping patrons safe while still sharing the beauty of native plants.
"Everybody is doing everything from Zoom or on their computer, so why not?" said Colene Rauh of the Sacramento Valley chapter of the California Native Plant Society, which hosts the tour. "We're going to include garden descriptions and label main plants. We hope to still provide information (to patrons)."
Because many of the featured plants bloom only in spring, rescheduling to summer or fall was not a realistic option. So, instead Sac Valley CNPS will present the virtual Gardens Gone Native Tour on the same date as the original in-person tour, April 25.
"We may even have it ready before that," Rauh said. "Our hosts are taking photos of their gardens or having one of our volunteers take the photos. We have 26 gardens – just about everybody who originally planned to participate."
The virtual tour will appear here:
https://www.sacvalleycnps.org/native-plant-gardening/garden-tour
That's also where patrons can find background information and photos of past tours.
With another month of shutdowns planned, organizers sent out this message Sunday night:
"Due to the COVID-19 shelter-in-place order, the 2020 Gardens Gone Native Garden Tour has been converted to an online virtual tour. Images of the same gardens as well as garden descriptions will be available on April 25, 2020, and thereafter on our website."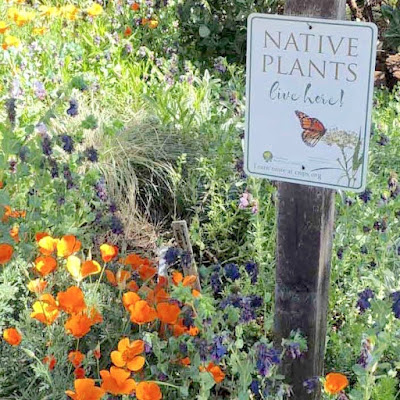 The free Gardens Gone Native Garden Tour each year attracts hundreds
of people
to gardens in the region.
Now in its 10th year, Gardens Gone Native showcases local gardens with at least 50 percent native plants. Gardens participating this year are in Sacramento, Woodland, Davis. Citrus Heights, Granite Bay, Fair Oaks and Carmichael.
Last year, more than 1,200 people signed up to take the free tour.
"We already had 361 registrations a month before the tour, so there's a lot of interest," Rauh noted.
March rain has reinvigorated native gardens and brought out the blooms, she added.
"The gardens are looking good," she said. "February was really dry, but we had quite a bit of rain in March. What kind of (native plant) season we have will depend on what happens between now and (late April)."
The important thing is keeping people healthy, Rauh noted, a sentiment echoed in the tour's official statement:
"We regret the tour will not be able to move forward, however our primary concern is the health and safety of our wonderful tour supporters. We wish you all good health and hope to see you next year for the 11th annual Gardens Gone Native Garden Tour."
Details:
www.sacvalleycnps.org
.