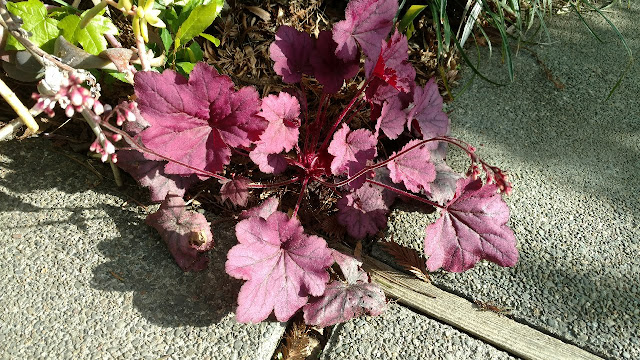 This Primo Wild Rose Heuchera from Proven Winners is a lovely wine purple. These plants brighten up shady spots. (Photos:
Debbie Arrington)
New varieties come in eye-popping colors
This nostalgic favorite has a bold new look – thanks to clever breeding.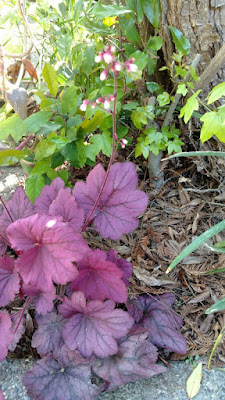 The little flowers above the leaves add
Coral bells, the common name for the
Heuchera
family, are relatively easy to hybridize. Different species and parents readily cross with each other, creating new varieties with all sorts of interesting characteristics. There are fewer than 40 species of
Heuchera
(including several native to California and the Southwest), but hundreds of named hybridized varieties.
Their often-variegated foliage comes in almost every color, from creamy white to silvery charcoal. As a bonus, charming sprigs of flowers – the bells – sprout from the low-growing mass of attractive deeply cut leaves.
Great choices for a low-water garden,
Heucheras
are naturally drought-tolerant perennials; they need only weekly or twice monthly irrigation. Most bloom readily in partial shade. And they're super low care; just snip off the spent flowers. Like most perennials, they die back in winter, but come on strong each spring.
My favorite
Heuchera
right now adds a brilliant splash of wine purple in a shady spot next to the patio. Part of the Primo series from Proven Winners, Primo Wild Rose holds its unusual color throughout the year. The vivid leaves are veined in dark gray and glisten with a metallic touch. The pink flowers? They're just cute.