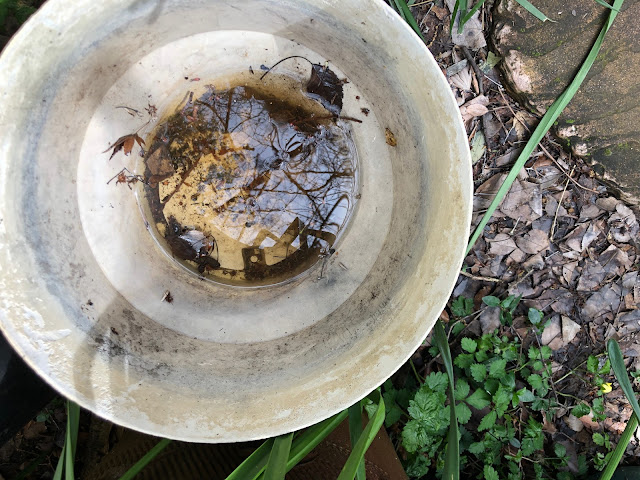 Check around the garden for containers -- empty or otherwise -- that might have accumulated excess rain. Tip it out or dump it into plants under the eaves. (Photo: Kathy Morrison)
How did your landscape cope with so much rain?
We may not have had a March miracle, but so far April showers have us soaked.
According to the National Weather Service, Sacramento received about 2.2 inches in two days – more rain than the whole month of March. That's also more than Sacramento historically averages for April, May and June combined.
How did your garden hold up during the weekend storm? It's time for a post-rain check-up:
* Postpone planting or any other digging this week until soil has a chance to dry out a little. Working wet ground can cause compaction and root problems.
* This storm probably gave you a good idea about where the low spots are in your landscape. Mark them with a stick, so you'll remember where they are when the landscape dries out. Avoid planting anything in that wet spot that demands good drainage.
* Consider such soggy spots for a rain garden, where water can naturally percolate into the ground to irrigate the landscape.
* Make sure storm drains, gutters and down spouts are clear of debris. These storms brought down a lot of tree litter from evergreens.
* Tip excess water out of containers. Make sure potted plants aren't waterlogged.
* Eliminate any standing water that may have accumulated in wheelbarrows, saucers, etc.
* Not everything got watered by the rain. Check plants under eaves and overhangs; they may need a drink.
* Turn off the sprinklers. This storm saturated the soil. You can delay further irrigation for at least a week and save water – on average 800 gallons.