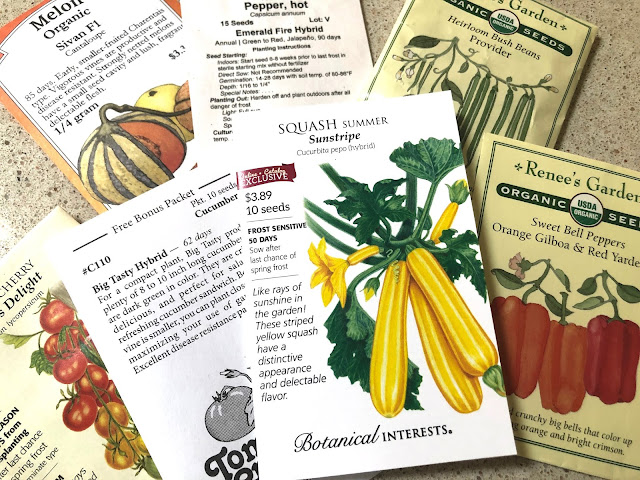 How many of each of these seeds to plant? It depends on your family's tastes, and how much time and space you have. Also, the pepper seeds really should have been planted awhile ago; they're notoriously slow to germinate, so try to find transplants now. (Photo: Kathy Morrison)
Some guidelines for estimating a garden you'll eat
What to plant? That question is on the mind of every vegetable gardener right now.
Think before you buy seed – or dig. You'll thank yourself later.
The UC Master Gardeners of Sacramento County have this advice:
"It is tempting to try growing a large variety of vegetables. A better approach might be to consider what you and your family like to eat."
Poll your family members. Will they really eat a whole row of daikon radishes? What about okra? Or beets?
"Then consider the space that you have available," add the master gardeners. "Plant only as large a garden as you can easily maintain, as there is a time commitment (thinning, weed and pest control, irrigation, fertilization). A smaller, properly tended garden will be more productive and satisfying than a larger garden receiving minimal attention."
Right now, it seems like you may have all the gardening time in the world. But will that be true when life returns to relative normal?
Also consider how much your family will actually eat when those veggies are ready for harvest. Some crops – such as tomatoes – can be readily preserved. But lettuce? Those heads need to be eaten fresh, not frozen.
Garden Gate Magazine came up with a vegetable calculator with estimates per person and for a family of four. Find it here:
https://bit.ly/2V2BUIK
Some estimates seem pretty high (such as 24 lettuce plants per person), but that consumption depends on the size of the heads at harvest – and how much you like salad. Also, that lettuce harvest may be spaced year-round, not just one season.
For summer favorites, here are estimates of how much to plant this month for two people:
Beans (bush) – 30 plants
Beans (runner) – 20 plants
Corn – 24 plants
Cucumbers – Two vines or bushes
Eggplant – Three plants
Melon – Two plants
Onions – 40 sets
Peppers – Six plants (mixed varieties)
Squash – Two plants
Tomatoes – Four plants
Zucchini – Two plants