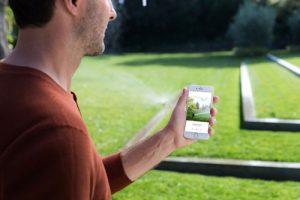 Use your smartphone and the Rachio 3 Smart Sprinkler Controller to keep your irrigation in sync with the weather. (Photo courtesy RWA)
Regional Water Authority offers great deal on smart sprinkler controller
Considering how our spring weather has been bouncing from cold and wet to hot and dry, here's a timely offer: A great rebate on a "smart" sprinkler controller.
Local residents can now save $150 (or more) on a Rachio 3 Smart Sprinkler Controller, thanks to an instant rebate program offered by the Regional Water Authority and Sacramento-area water providers.
Representing 21 local water providers serving about 2 million customers, the RWA always has an eye on reducing water consumption. A smart controller such as the Rachio 3 can save an estimated 13,500 gallons of water per year for a typical Sacramento household.
How does it work? The Rachio 3 Controller acts like a thermostat for your sprinklers, using local weather conditions to adjust how long your sprinklers run, explains Amy Talbot, RWA water efficiency program manager. The controller automatically reduces sprinkler run times when the weather is cooler and increases them when the temperatures rise. You also can manage the controller from your smartphone with the Rachio app.
The Rachio 3 Smart Sprinkler Controller typically retails for about $230 for an eight-zone system and $280 for a 16-zone system, but both models are being offered at a reduced rate of $75 plus tax. (Installation is not included.)
This deal is available for a limited time on a first-come, first-served basis until funding is exhausted. Rebate details, eligibility requirements and a link to purchase the controller are available at
BeWaterSmart.info
.