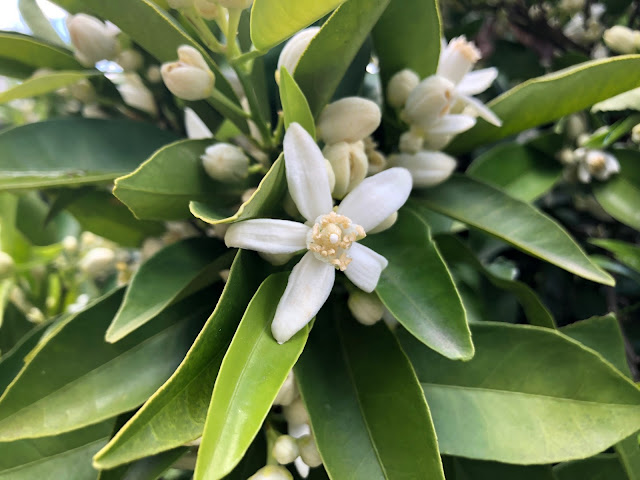 If only the delicious smell came with this photo -- orange blossoms are heavenly. (Photo: Kathy Morrison)
Get ready for warmer days ahead; give citrus some TLC
Just when it starts feeling like summer planting time, April weather snaps us back with a little chill.

Cloudy conditions will keep our temperatures on the cool side through Monday night, according to the National Weather Service. Afternoon highs will stick in the 60s, below April's normal of 71. Not much if any rain is expected in the valley from this weather system. But it could be pretty breezy.

By Tuesday, sunny skies return and so do warmer afternoons. We'll be back in the low 80s by Wednesday.

So, plan your garden chores accordingly. These cool days could be good to set out seedlings -- if it's not too windy. Make sure new transplants and sprouting seed beds stay evenly hydrated and moist.

Also this week:
* April is the last chance to plant citrus trees such as dwarf orange, lemon and kumquat. These trees also look good in landscaping and provide fresh fruit in winter.
* Smell orange blossoms? Feed citrus trees with a low dose of balanced fertilizer (such as 10-10-10) during bloom to help set fruit. Keep an eye out for ants.
* Apply slow-release fertilizer to the lawn.
* Thoroughly clean debris from the bottom of outdoor ponds or fountains.
* Weed, weed, weed! Get them out before they start flowering.
* Trim dead flowers but not leaves from spring-flowering bulbs such as daffodils and tulips. Those leaves gather energy to create next year's flowers. Also, give the bulbs a fertilizer boost after bloom.
* Pinch chrysanthemums back to 12 inches for fall flowers. Cut old stems to the ground.
* From seed, plant beans, beets, cantaloupes, carrots, corn, cucumbers, melons, pumpkins, radishes and squash.
* Plant onion sets.
* In the flower garden, plant seeds for asters, cosmos, celosia, marigolds, salvia, sunflowers and zinnias.
*Transplant petunias, zinnias, geraniums and other summer bloomers.
* Plant perennials and dahlia tubers for summer bloom.
* Transplant lettuce and cabbage seedlings.