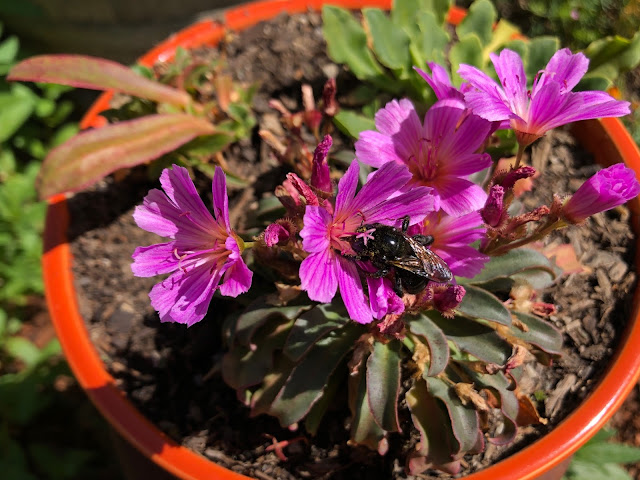 At a garden in Woodland, a busy pollinator is oblivious to visitors during the 2019 Gardens Gone Native Tour. This year the
tour will move online. (Photos: Kathy Morrison)
Virtual tour showcases Sacramento-area gardens planted in California natives
As healthy as it is to take breaks from the screen these days, this weekend you're going to want to make time for this big online event: the Gardens Gone Native Virtual Tour.
Saturday was supposed to be the 10th annual event in this self-guided tour organized by the Sacramento Valley Chapter of the California Native Plant Society. The tour, including gardens in Yolo and Sacramento counties, is designed to spotlight the use of California native plants in home gardens.
But under the state's coronavirus shelter-in-place orders, the tour now will come to you through the internet. This link will go live Saturday, April 25:
http://www.sacvalleycnps.org/native-plant-gardening/garden-tour
.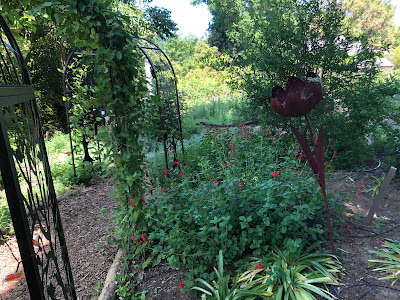 This restful scene was at a garden in Davis in 2019.
"You can still be inspired by a variety of gardens that showcase the beauty, versatility, and wildlife habitat value of native plants as well as their role in water efficient landscapes," says the Sac Valley CNPS chapter.
So look at all the amazing plants, take notes, and plan to put some of these beauties in your own garden. You might even be inspired to be part of the 2021 tour. And this year, at least, we'll all save on gas when moving from garden to garden.
To find out more about California native plants, visit the area chapter at
www.sacvalleycnps.org
(which has many links to articles and other garden videos) or the statewide organization at
cnps.org
.
-- Kathy Morrison