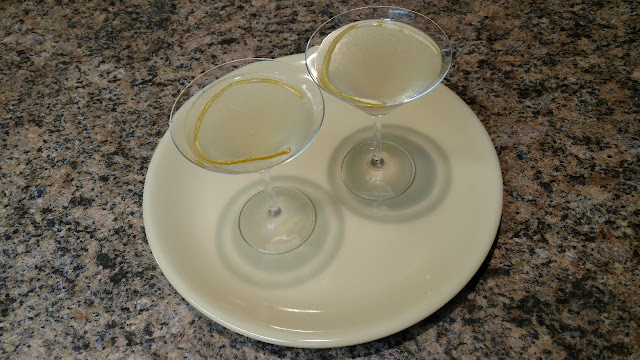 Cocktails for two! Meyer lemon flavors these Quarantinis. (Photos: Debbie Arrington)

Cocktail hour is making a comeback; as they say, it's always 5 o'clock somewhere when you're locked down.

Of course, now our cocktail chitchat is via Zoom and not in person. But the drinks still have the same buzz.

Cocktails take a little extra time for preparation -- extra time is one ingredient we have handy.

But what else is on hand as we self-quarantine? Many cocktail recipes call for unusual ingredients and a well-stocked liquor cabinet (or trip to the store). For a Quarantini, use what you've got and keep it simple.

This variation on a Lemon Drop martini relies on fresh citrus for its pop, honey syrup for its sweet smoothness.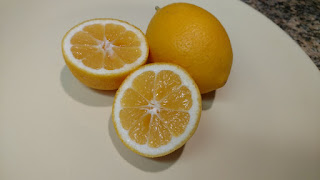 For Quarantini, sweet-tart Meyer lemons, fresh and juicy.

I've got Meyer lemons in my backyard, and this drink shows off their juicy flavor. But this drink would also work with Eureka or other lemons as well as limes, oranges, tangerines or grapefruit.

Honey syrup is easy to make; it's a step that requires a little pre-planning (but not much). Orange blossom honey (which is not that sweet) adds another citrus note.

Pre-chilling the glasses and using a cocktail shaker add some flair to the process and improve the final outcome But in a pinch, a quart jar with a lid will do as a substitute shaker. If using gin, be gentler and stir instead of shake. Either way, the results will help you chill.

Quarantinis
Makes 4 servings

Ingredients:
Juice of one lemon, preferably Meyer (about 1/4 cup juice)
1/4 cup honey syrup
3/4 cup (6 ounces) vodka or gin
Ice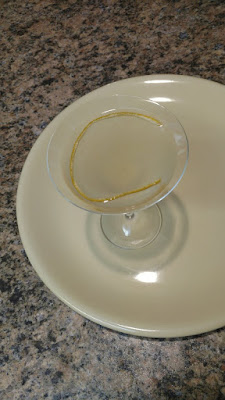 A lemon peel garnish finishes off the
Lemon peel (for garnish)
Instructions:
Ice 4 martini glasses. Put them in the refrigerator (preferably the freezer) until ready for use.
With a sharp paring knife, cut off a few strips of lemon peel before cutting lemon in half.

Pack a martini shaker with ice. (If no shaker, use a 1-quart jar with lid.)

Squeeze lemon juice over ice. Add honey syrup and vodka or gin. Put top on shaker (or jar) and shake 12 times.

Strain drink into glasses. (Store extra drink on ice in the shaker/jar in the refrigerator until using.)

Serve well chilled, with twist of lemon peel.

To make honey syrup: In a small saucepan over medium heat, combine 1/4 cup sugar, 1/4 cup water and 2 tablespoons orange blossom or similar honey. Bring to a boil. Let boil 1 minute while stirring. Remove from heat and cool. Store covered in refrigerator.