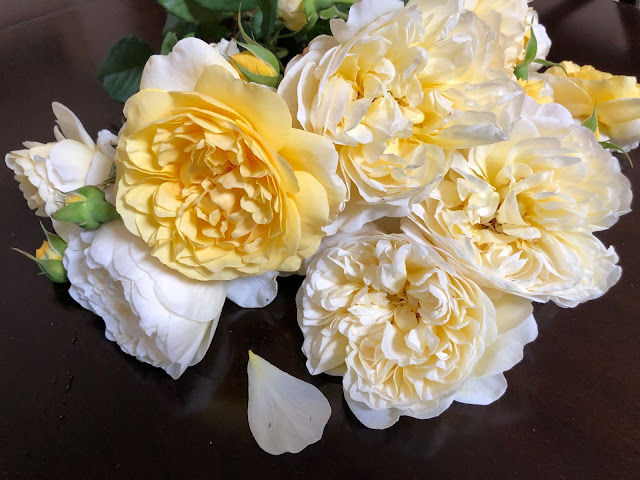 A sheaf of yellow roses makes a beautiful decoration for May Day. This is The Poet's Wife, a David Austin rose. (Photo:
Ancient tradition celebrates halfway point to summer
May Day was made for merriment.
Maypoles, May baskets and "bringing in the May" -- all are part of flower-filled May Day traditions that date back to the ancient Celtics.
With our gardens coming into full bloom, this first day in May may be as good a time as any to explore some real old-fashioned garden fun.
May Day represents the midpoint of spring, halfway between the vernal equinox and the first day of summer. For hundreds of years, this holiday has been celebrated in the British Isles as an important point on the agricultural calendar.
This is a garden lover's kind of holiday: Everything gets decorated with flowers (especially yellow or wildflowers). Houses are adorned with floral wreaths; so are livestock and pets. People wear garlands on their heads and around their necks.
All that decorating takes many May blooms. That's the origin of the phrase, "bringing in the May"; it means picking a lot of flowers – often by the armload.
May baskets are little gifts left (anonymously) on doorsteps. The basket – often just a colored paper cone or decorated pasteboard box – contains a small bouquet of flowers and something sweet to eat (such as cookies or candy). The giver leaves the treats, rings the doorbell, shouts "May basket!" and runs. If the recipient catches the giver in the act, they get a kiss. (Maybe not this particular May Day, but that's the tradition.)
In the U.S., maypoles may be the best known May Day tradition. According to The Old Farmer's Almanac, the ancient Celtics danced around a living tree strung with ribbons while praying for good crops.
By the Middle Ages, the maypole had become a wooden pole – usually in the center of the village. The taller the pole, the more dancers could wrap ribbons around it. (That's another tradition that's probably being skipped this May Day.)
Instead of dancing with ribbons, bring in the May from your garden and celebrate a beautiful spring.