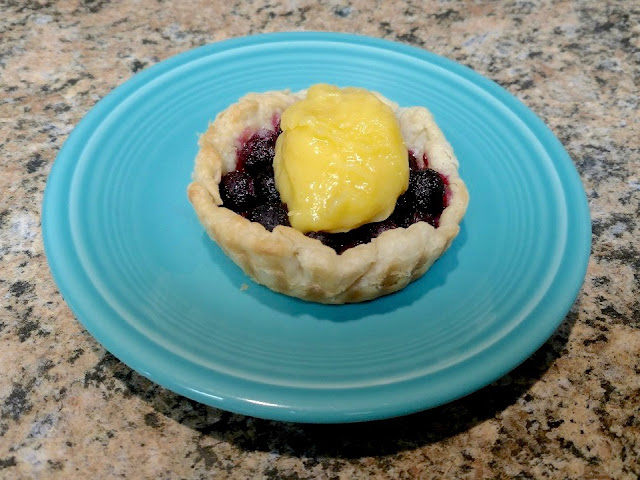 Blueberry tart topped with homemade lemon curd -- what a treat! (Photos: Debbie Arrington)
Recipe: Blueberry tarts topped with lemon curd
As any California gardener who grows them knows, blueberries are special. When a bush finally starts producing, they're like precious little sapphires. That inspires an equally special presentation.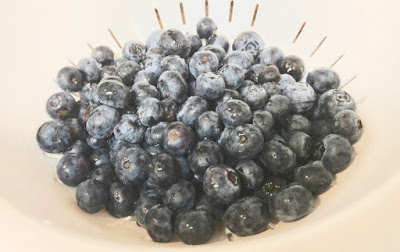 Homegrown blueberries deserve special treatment.
Tarts are round showcases for these garden gems. This version, adapted from the classic "Joy of Cooking," shows off the fresh berries like the treasures they are.
Instead of topping with plain custard or whipped cream, I chose a vibrant lemon curd from the Southern cookbook by Ronni Lundy, "Butter Beans to Blackberries." In her book, she serves fresh blueberries topped with lemon curd and cornmeal cookies on the side. That's a simple alternative if tarts seem too complicated -- or it's too hot to turn on the oven.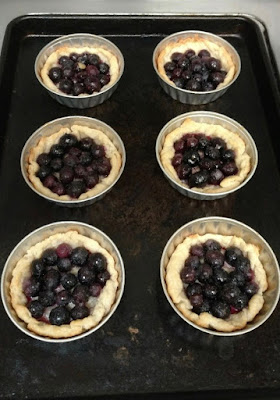 Tarts show off the blueberries.

Blueberry tarts with lemon curd
Makes 6 tarts
Ingredients:
Vienna pastry dough (see recipe) or 6 pre-made tart shells
1 pint blueberries, washed
1/2 cup sugar
2 tablespoons lemon juice
Lemon curd (see recipe)

Instructions:
Preheat oven to 450 degrees F.
Prepare pastry shells and bake for 8 minutes. Remove from oven.
In a large bowl, mix together blueberries, sugar and lemon juice.
Spoon sugared blueberries in a single layer into each tart shell.
Reduce heat to 375 degrees F.
Return filled tarts to oven. Loosely top with foil to prevent crusts from burning, if needed. Bake for 12 minutes or until blueberries start to release juice.
Remove from oven and let cool.
Remove tarts for tins, if necessary. Serve with lemon curd.
Vienna pastry
Makes 6 to 8 tart shells
Ingredients:
1 cup all-purpose flour
1/4 teaspoon salt
1/2 cup (1 stick) chilled butter
4 ounce soft cream cheese

Instructions: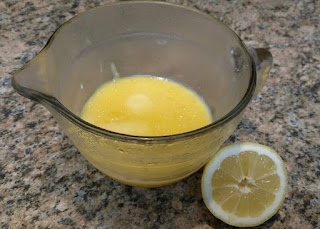 Lemon curd
In a large bowl, sift together flour and salt. With a pastry blender or two knives, cut in butter and cream cheese. (If needed, add 1 tablespoon water.)
When well blended, wrap dough in foil and chill in freezer for at least 30 minutes or until ready to use.
Preheat over to 450 degrees F.
Using parchment paper or plastic wrap, roll out dough 1/8-inch thick. Transfer dough to tart pans. Prick dough with fork in several places.
Bake tart shells for 8 minutes or until brown. (Watch carefully!)
Remove from oven.
Recipe adapted from "Joy of Cooking" by Irma Rombauer and Marion Rombauer Becker (Bobbs-Merrill, 1975 edition)
Lemon curd
Makes about 1-1/4 cups
Ingredients:
1/2 cup fresh lemon juice (2 large lemons)
2 tablespoons lemon zest
1/2 cup sugar
1/4 cup butter (1/2 stick)
1 whole egg
2 egg yolks

Instructions:
In the top of a double boiler over boiling water, combine lemon juice, zest, sugar and butter. Stir often as butter melts and sugar dissolves.
Over medium high heat, let lemon mixture cook for 2 minutes, stirring often; little bubbles start to form along the edges.
In a separate bowl, beat together whole egg and egg yolks.
Remove lemon mixture from heat. Add half of lemon mixture to beaten eggs, whisking to blend. Whisk this mixture into the remaining lemon mixture in top of double boiler. Return to heat.
Cook until curd thickens, stirring often; about 5 minutes. Let cool. Refrigerate until ready to use.

Recipe adapted from "Butter Beans to Blackberries: Recipes from the Southern Garden" by Ronni Lundy (North Point Press, 1999).