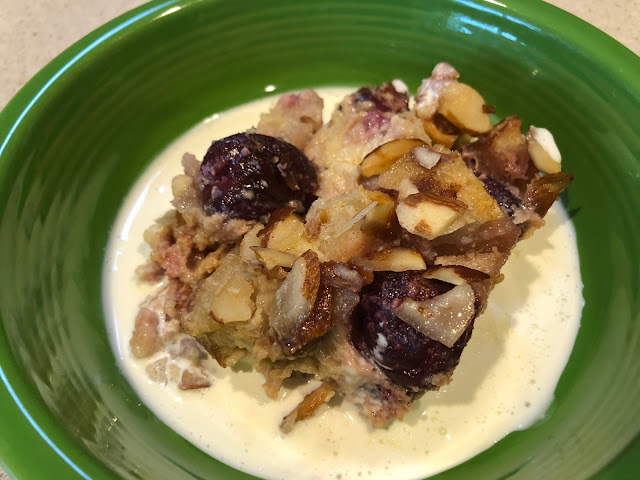 Cherry almond bread pudding can be served at brunch or as dessert. Try it with a bit of heavy cream in the bowl. (Photos: Kathy Morrison)
Let's admit this right up front: The best cherries aren't here yet. June is when the biggest, juiciest, darkest, cherry-est Bing cherries are in season.

But early-season cherries are showing up at the markets and grocery stores, and they're worth buying, especially to bake with. (In my house the Bings are so beloved they rarely are cooked.)

This bread pudding recipe shows off the early cherries, while also using up any stale bread you might have. I used part of a sourdough baguette, but just about any variety that isn't full of seeds will do. (I've even heard of hot dog buns in bread pudding, but never tried it myself.) The key is stale, but fresh bread can substitute if slices or chunks are put in a warm oven for a bit to dry them out. Trim the crusts off ahead of time if desired.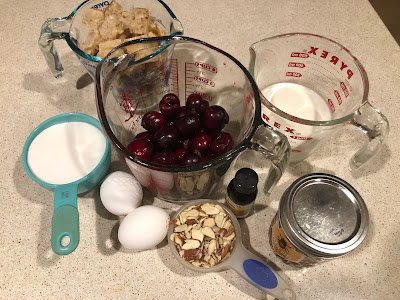 Pitted cherries and other ingredients for bread pudding.
This bread pudding isn't heavy on custard, so reheats nicely. It can be served cold or room temperature, too. Try it with a little pool of heavy cream or even a small scoop of vanilla ice cream on the side.

Cherry almond bread pudding
Serves 6-8

Ingredients:

2 cups sweet red cherries, pitted, pits reserved
1 cup half and half
2/3 cup granulated sugar
Pinch of salt
2 eggs, beaten
2 to 3 tablespoons honey, to taste
1/4 teaspoon almond extract
2 cups stale bread cubes
Butter to grease the baking dish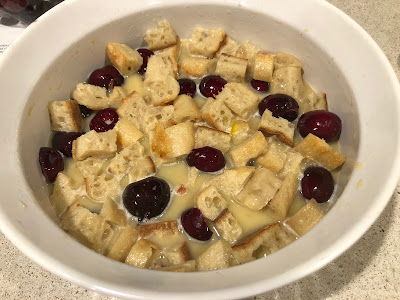 All the ingredients are in the baking dish; just the topping is left to add.
For topping:
1/2 cup sliced almonds, toasted
2 tablespoons unsalted butter
Sprinkle of sugar
Sprinkle of cinnamon

To serve:
Heavy cream (not whipped) or vanilla ice cream or gelato, optional

Instructions:

Preheat the oven to 350 degrees. Place the reserved cherry pits and the half and half in a small saucepan over medium-low heat, just long enough for the liquid to warm and become fragrant, about 5 minutes. Strain the half and half into a glass measuring cup or small bowl and reserve; discard the cherry pits.

In a large bowl, stir the salt and sugar into the eggs until well blended. Then pour in the half and half, honey and almond extract, blending. Add the cherries and stir to coat.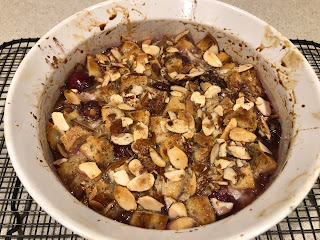 Baked golden brown and ready to serve.
Blend the stale bread cubes into the cherry mixture, and allow it to soak up some of the liquid. While that's soaking, butter a 2-quart baking dish or any dish roughly that size and at least 2 inches deep.

If the bread has soaked up all the liquid, add a little more half and half or some milk to the mixture. Pour the mixture into the prepared dish, smooth it out, and sprinkle the toasted almonds over the top. Dot the almonds with bits of the butter, then sprinkle on sugar and cinnamon to taste.

Bake until golden brown, 35 minutes. It should be bubbly but set. Remove the bread pudding to a rack to cool briefly. Serve warm or let cool to room temperature, or chill to serve later. Heavy cream, vanilla ice cream or gelato makes a fine accompaniment.