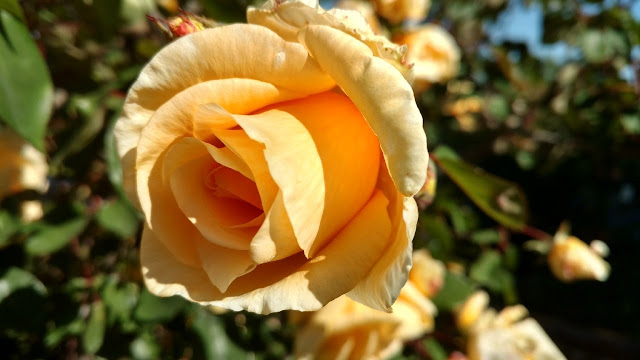 Lady Hillingdon is among the roses offered for sale. Volunteers propagate cemetery roses each year for the Open Garden sale, which was canceled this year. (Photos: Debbie Arrington)
Big event was canceled; volunteers offer rarities
Do you love roses that smell like roses? Looking for an unusual and historic addition to your garden? How about something that's totally different with a story to match?
Here's your chance to have a piece of the Heritage Rose Garden at Sacramento's Historic City Cemetery – a rose bush cloned from the garden's world famous collection.
Due to the COVID-19 shutdown, the cemetery was unable to host its annual Open Gardens weekend in April. This big event annually attracts scores of rose lovers from throughout Northern California.
In anticipation of Open Gardens, volunteers propagate hundreds of roses from cuttings from the garden's rarities. The garden includes many roses that date back to the 1800s; some mother bushes are one of a kind.
These cuttings have been grown out into healthy bushes on their own roots in 1-gallon pots. Volunteers take turns babysitting these young bushes for months, sometimes years, before the plants are ready to be sold.
With no big event in April, these volunteers have still been babysitting these bushes, which are growing fast. The roses need homes now – not next year. How many roses? The volunteers grew more than 500 bushes in 80-plus varieties.
So these roses are now being offered to local gardeners in an online sale – first come, first served. The bushes are priced at $20 each with proceeds benefiting the cemetery gardens.
"We hope to do an Open Garden and Rose Sale again next year, but have no idea if that is possible," said Anita Clevenger, who is handling the online sale. "So now is the opportunity to buy wonderful roses like Barbara's Pasture Rose and the miniature China Abbott & Burns Family Rose, which came to California by wagon train."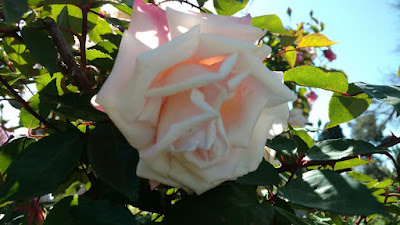 Mme. Antoine Mari is a tea rose, circa 1901.
Many of the roses are in bloom now in the cemetery or can be seen on
HelpMeFind.Com/roses
. On the
CemeteryRose.org
website, the 2020 catalog lists the locations of the roses in the cemetery garden and a little history on the varieties.
Not all roses on this list will be available (some may have already been sold), but the list is extensive. If interested in purchasing any of these roses, contact Clevenger directly at anitac5159@gmail.com to make arrangements for pick-up.
Here's the list of 2020 propagated roses:
Abbott & Burns
Across from the Health Food Store
Admirable
Adorable Pink Poly
Aimee Vibert
Archduke Charles
Barbara's Apricot Musk
Barbara's Pasture Rose
Bloomfield Abundance
Buff Beauty
Cardinal de Richelieu
Car Wash Rose
Castro Breen Red Climber
Clothilde Soupert
Coupe d'Hébé
Crepescule
Dawn Crest
De Laurenti
Devoniensis
Duchesse de Brabant
Eglantine
El Dorado Cemetery Short Moss
Elisabeth's Red China
Fiddletown Cherry
Frau Hedwin Koschel
Garberville HP
General John Pershing
George Washington Richardson
Goubault
Grandmother's Hat
Greenmount Cemetery Rose
Hoag House Cream
Hubner Plot
Jay's Hudson Repeat
Jesse Hildreth
Joasine Hanet
Jost Plot Tea
King Plot Noisette
Lady Hillingdon, Climbing
Lady Roberts
Ladyfingers
Like Lamarque
Maman Cochet
McQuistion Red
Mlle. Blanche Lafitte
Mme. Antoine Mari
Moser House Hybrid Perpetual
Mrs. Keay's Pink Noisette
Mutabilis
N 92 Nanjing
Narrow Water NOT
New Orleans Cemetery Rose
Niles Cochet
North Bloomfield Raspberry
Oneto Home Saffron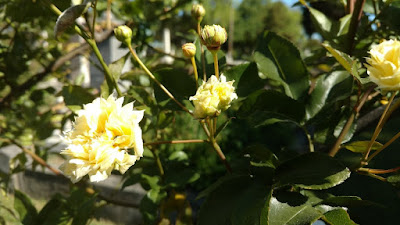 Pagani Valley Yellow Banksia is a species hybrid rose.
Pagani Valley Yellow Banksia
Peggy Martin
Perle d'Or
Phillips & Rix Pink Climbing China
Pink Cracker Rose
Plate‐Bande
Pulich Children
R banskia var normalis 'Linda Street'
Ragged Robin
Rainbow
Regulus
Reine des Violettes
Rosa Lamb
Rosette Delizy
Rustler's Gold
Rusty Rollieri Red
Schmidt's Smooth Yellow
Secret Garden Musk Climber
Serna House
Souvenir de Malmaison
St. Leonard's
Surf Rider
Tamalpais Homestead Tea
Tina Marie
Tuscany Superb
Whittle-Beyer Light Pink