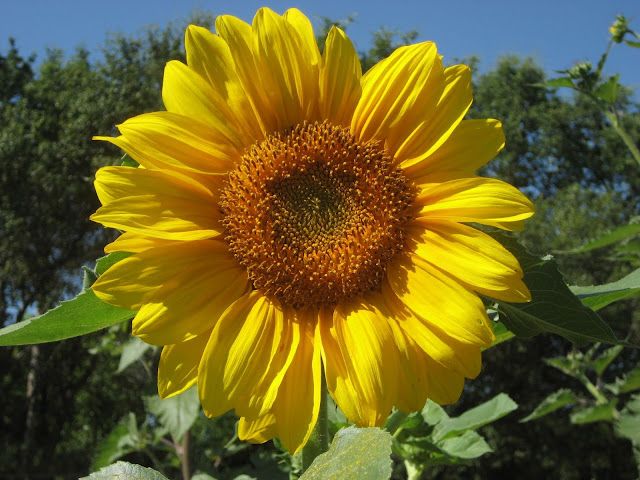 Sun and sunflowers: It's almost summer in Sacramento, but it surely will fee like it the next few days. (Photo: Kathy Morrison)
Prepare for hot days to come; check your irrigation
The heat is on! What would you expect on Memorial Day Weekend?
May goes out on a hot streak with a string of days in the high 90s. According to the National Weather Service, we may see 100 degrees on Tuesday or Wednesday before "cooling" down into the mid 90s.
Concentrate your gardening efforts this long weekend by making your garden as comfortable as possible and helping it cope with the heat to come.

* Check your irrigation. Are your drip emitters putting the water where it's needed? Are they all working? Are they delivering enough water for growing plants?
* Deep water trees, shrubs, perennials, berries and vegetables.
* Plant anything lately? It needs water, too. Be consistent with irrigation.
* Try to water in the early morning or evening; there's less evaporation and less waste.
* Mulch, mulch, mulch. Check for bare spots where ground is baking. But avoid mounding mulch around trunks or main stems; leave a 6- to 12-inch circle open to avoid crown rot.
* Keep an eye out for slugs, snails, earwigs and aphids that want to dine on tender new growth.
* Feed summer bloomers with a balanced fertilizer.
* For continued bloom, cut off spent flowers on roses as well as other flowering plants.
* Put your veggie garden on a regular diet. Set up a monthly feeding program, and keep track on your calendar. Make sure to water your garden before applying any fertilizer to prevent "burning" your plants.
* Are birds picking your fruit off trees before it's ripe? Try hanging strips of aluminum foil on tree branches. The shiny, dangling strips help deter birds from making themselves at home.
* It's not too late to add a few more tomatoes, peppers or other summer favorites.
* Direct-seed melons, cucumbers, summer squash, corn, radishes, pumpkins and annual herbs such as basil.
* In the flower garden, direct-seed or transplant sunflowers, cosmos, salvia, zinnias, marigolds, celosia and asters.
* Plant dahlia tubers.
* Transplant petunias, marigolds and perennial flowers such as astilbe, columbine, coneflowers, coreopsis, dahlias, rudbeckia and verbena.