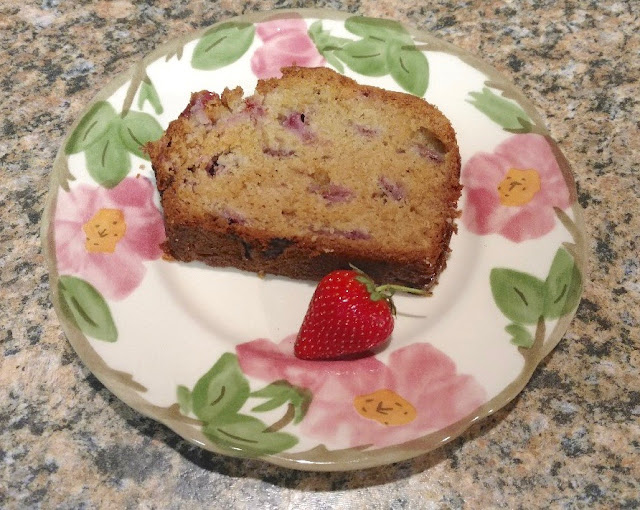 Sunny strawberry bread marries berries and lemon. (Photos: Debbie Arrington)
This delightful tea bread combines two favorite flavors of spring: Strawberries and lemon. It also makes good use of small berries.
Small berries is what I have right now. My strawberries have had a bountiful May, producing pint after pint of flavorful berries. And they just keep going.
I grow Seascape, a disease-resistant ever-bearing variety that's bright red all the way through. It can take the heat and produces berries from April through November. Besides all those pluses, the flavor is intense and very berry.
The first round of fruit is always the largest and prettiest; those berries go into shortcake or on top of tarts. In late May, the plants are pumping out little jewels -- thimble-sized berries that are just the right size to bake into bread or other treats.
This recipe is an adaptation of Nicole Routhier's strawberry-lemon bread in her excellent "Fruit Cookbook" (Workman Publishing, 1996).
Tossing the strawberries with a little flour before baking keeps the fruit suspended in the batter instead of sinking to the bottom of the loaf.
Yes, it's a lot of butter, but the result is light and moist.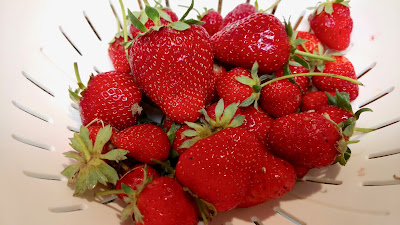 Still a few large Seascape berries, but mostly small ones now.
Sunny strawberry bread
Makes one large loaf
Ingredients:
2 cups fresh strawberries, washed, hulled and halved or quartered
2 cups flour, divided
2 teaspoons baking powder
1/2 teaspoon baking soda
1/4 teaspoon salt
2 eggs, beaten
1/2 cup sugar
1/2 cup (1 stick) butter, melted and cooled
1 tablespoon lemon zest
1 teaspoon vanilla extract

For glaze:
Juice of 1 lemon
3 tablespoons sugar

Instructions:
Preheat oven to 350 degrees F. Prepare 8-1/2-by 4-1/2-by 2-1/2-inch loaf pan (or similar size); grease pan and line with parchment paper.

Prepare strawberries. Toss berries with 1/4 cup flour.

In a large bowl, sift together remaining 1-3/4 cups flour with baking powder, baking soda and salt.

In another bowl, combine beaten eggs and sugar. Stir in melted butter. Add lemon zest and vanilla extract. Fold in flour-covered strawberries.

Make a well in the center of the flour mixture. Add strawberry mixture and stir just until bended. It will be a thick and heavy batter.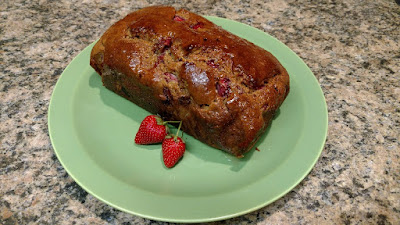 Strawberry bread is great for brunch, a snack or dessert.
Transfer batter to prepared pan and bake for 60 to 70 minutes or until the top is golden brown and a long skewer comes out clean.

Meanwhile, make the glaze. In a small saucepan, combine lemon juice and sugar. Heat to boiling, stirring often. Let boil 1 minute, then remove from stove.

Let bread cool for 15 minutes, then remove from pan. Slowly pour glaze over loaf, using a pastry brush or spoon to make sure the top is evenly covered.

Let bread cool at least 1 hour before slicing. Serve warm or at room temperature.

Note: Day-old strawberry bread makes good toast.