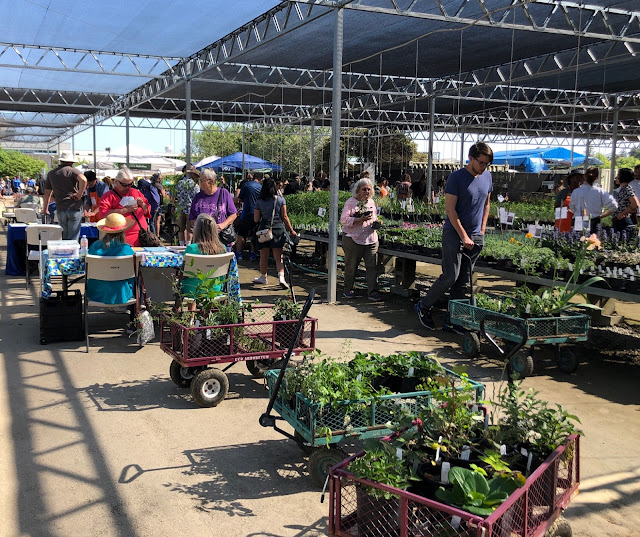 This is the scene at a typical UC Davis Arboretum spring plant sale, though not this year. However, the plants are still there and waiting for new homes. (Photo: Kathy Morrison)

Online sales with curbside pick-up expected soon
With no spring sales, the UC Davis Arboretum teaching nursery is practically overflowing with unsold plants.
"I'm babysitting an awful lot of plants," said Taylor Lewis, the nursery's manager. "It's somewhere in the neighborhood of 50,000."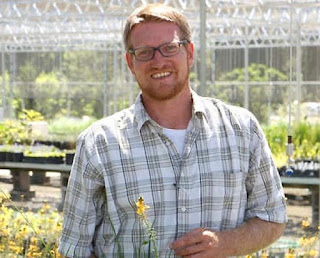 Taylor Lewis, the arboretum's nursery manager
Due to COVID-19 restrictions, the arboretum canceled all four of its spring sales. Its fall sales are on hold until further notice. The arboretum usually attracts more than 8,000 patrons annually to its sales.
But a solution is on its way.
"We're getting close to rolling out our curbside-pickup, online platform," Lewis said. (Watch for details at
arboretum.ucdavis.edu
.)
While arboretum tours and other events are on hold, Lewis has been hosting Facebook Live events at 10 a.m. Tuesdays and Thursdays. "Ask the Garden Gnomes" tackles garden questions and tours volunteers gardens.
"I call those (shows), 'Gnome Away from Home,' " he said.
Meanwhile, Lewis has been pretty much by himself, tending thousands of California native plants, Mediterranean perennials and drought-tolerant Arboretum All-Stars. Usually, he has about 160 arboretum volunteers plus several student interns to help out.
"We have only one volunteer in the whole arboretum right now," Lewis said. (That volunteer is monitoring hummingbird habitat.)
While the rest of the UC Davis campus has been quiet, Lewis has kept very busy.
"I've been at the nursery every day (since the shutdown started in March)," he said. "It's really just about only me coming out (to care for the nursery) — and pruning like crazy. These plants are getting big!"