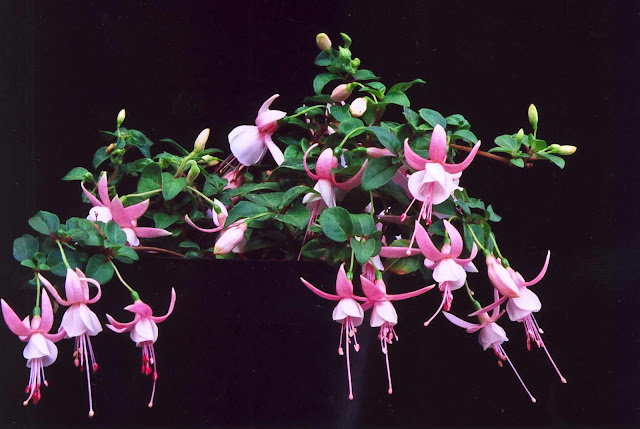 Fuchsias will be on exhibit as well as sold Saturday at the Shepard Garden & Arts Center, Sacramento. (Photo courtesy American Fuchsia Society)



Local society holds 78th annual event with COVID precautions
Its show may be scaled way back, but the sale will go on.
For almost eight decades, the Sacramento Branch of the American Fuchsia Society has hosted its annual show and sale, usually on the first Saturday in June.
This Saturday, the local fuchsia lovers will continue their string with their 78th annual fuchsia sale and a slimmed-down show at Shepard Garden and Arts Center in McKinley Park.
"Due to many challenges brought on by the COVID-19 virus, we have had to act quickly on recent news that we can meet and provide fuchsias," the society announced. "Modifications are in place this year, but we do have some spectacular fuchsias and members' plants on display. We hope you will join us!"
From 10 a.m. to 3 p.m. Saturday, June 6, the society will offer dozens of plants for sale as well as provide excellent advice on the care and cultivation of these charming flowers.
Both hanging and upright varieties will be available. This sale specializes in fuchsia varieties that can take Sacramento's summer heat and are "climate proven." All plants have been acclimated to Sacramento in advance of the sale.
The plants are a good value, too. A healthy fuchsia will thrive and bloom repeatedly for many years.
With COVID precautions in place, Shepard Center asks patrons to wear masks and practice social distancing.
Shepard Center is located at 3330 McKinley Blvd., Sacramento. Admission and parking are free.
Details:
www.sgaac.org
.