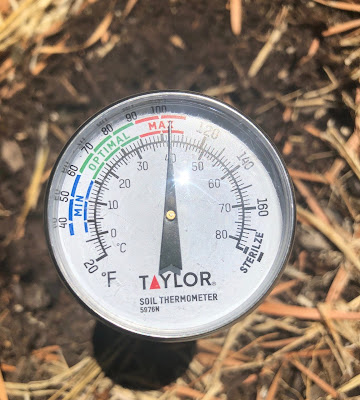 104 -- and not yet the peak of the heat.
(Photos:
Kathy Morrison)
Don't let the sun cook your plants' roots
It's June 4 and it's going to be at least 100 degrees again this afternoon. Do you know where your mulch is?
I bought more straw this morning after I took a soil thermometer out into my rapidly heating backyard Wednesday afternoon. The air temperature at 2:15 p.m. was 99 degrees, according to my cellphone's weather app, and the wall thermometer in the shade in the garden itself read 98. So it already was plenty hot.
I stuck the soil thermometer into the top inch of a non-mulched spot next to a basil plant in my raised bed, which at that point was in full sun (and had been for several hours).
The thermometer popped up to 104 degrees -- in the area on the thermometer helpfully labeled "MAX."
I pushed the thermometer down several inches in the same spot; the number dropped to 97 degrees. Still quite hot, but better.  Next I tried a shady area in the same raised bed: 82 degrees, in the optimal range. So my goal is to bump up the mulch here, and keep those plant roots in the optimal range. The cooking can happen later, in the kitchen.
A few other gardening notes on this early June day:
-- Harvest Day this year will be virtual, because of the coronavirus risk. This is a big event held the first Saturday in August at the Fair Oaks Horticulture Center. The UCCE Sacramento County master gardeners typically show off their demonstration gardens in a festive atmosphere. This year, the master gardeners will have a collection of videos highlighting their various areas. There will be a lot more information coming as we get closer to August. One good thing: The videos will allow folks who've never been able to attend Harvest Day to "visit" the Hort Center.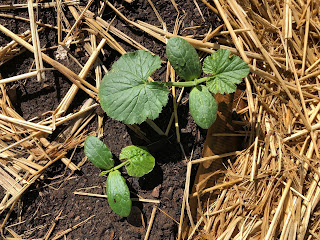 Squash plants, hanging in there. They'll get more
mulch.
-- Keep a close eye on your vegetable plants. With this heat, all the nasty things that can happen to them are being exacerbated. Bugs! Wilting! Fungus! Pollination problems! But remember: Don't overwater; don't feed a plant that's wilting; keep some shade cloth handy for the plants suffering most. Oh, and mulch!