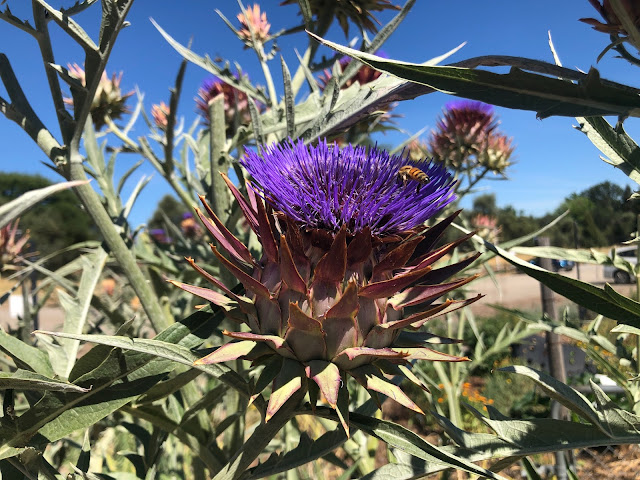 With more than enough artichokes to eat, this community gardener let the rest go to flower. The result was a honeybee rave. (Photo: Kathy Morrison)
Support the hard-working creatures that make food and flowers possible
With so many vegetables and other plants flowering right now, it's no wonder that June has been designated National Pollinator Month by the National Wildlife Federation.
Pollinators are responsible for assisting more than 80 percent of the world's flowering plants to reproduce, according to the USDA Forest Service. They provide an estimated 1 in 3 bites of food we eat.
And while bees do much of the heavy lifting when it comes to pollination, they have help from many other creatures: Birds, butterflies, moths, wasps, flies, beetles and even bats contribute.
Here are five ways to help pollinators in your garden and in your neighborhood:
1) Choose California native plants for the garden where possible. Native insects -- include the 1,600 types of native California bees -- need native plants to raise their young and thrive. The easy ones include California poppy, salvia, rudbeckia, yarrow and coneflowers. For more on bees, check out the
Honey Bee Haven
at UC Davis. And here's
a great guide
from the UCCE master gardeners on selecting plants for pollinators. Also check out the horticulture section of the
California Native Plant Society website
.
2) Let some of your herb and food plants go to flower. Designate a certain portion of the garden or even just one plant as a pollinator plant. Ever seen bees react to fluorescent purple artichoke flowers? It's party city!
3)  Plant pollinator-friendly plants in clumps, which are more likely to entice them, especially hummingbirds. Hummers are drawn to long, tubular flowers in the warm spectrum: orange, yellow and especially red.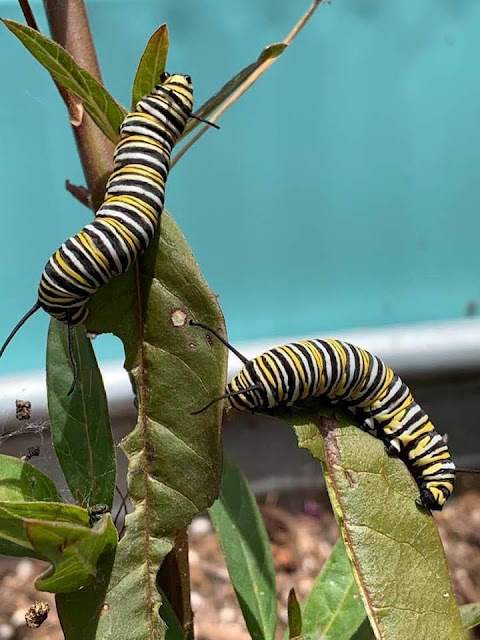 Monarch caterpillars happily devour leaves of a tropical milkweed plant.
(Photo courtesy Elizabeth Riley)
4) Love butterflies? Remember that they start as caterpillars, which eat leaves. You have to put up with some chewed leaves to get those gorgeous butterflies.
5) Most important: Avoid using broad-spectrum insecticides in the garden. Wiping out the good bugs along with one troublesome pest is bad for the environment and bad for us. Read any insecticide label before using it. Don't deploy the equivalent of a bulldozer when a trowel will do.
Bonus note: Here's a fun thing to share with young people in your life: A National Wildlife Federation kid-friendly webinar called
"Pollinators All Around Us."
-- Kathy Morrison