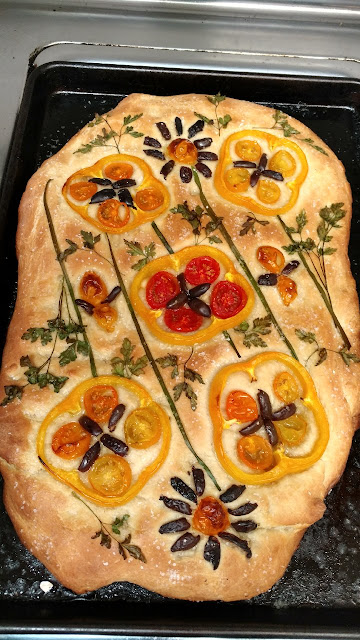 The finished product: Edible art.
(Photos: Debbie Arrington)
Recipe: Garden-variety focaccia decorated with whimsy
It's OK to play with your food, especially when making focaccia.

This simple Italian flatbread can be a blank canvas for garden-inspired edible "art." Use cut vegetables, tomatoes and herbs as your "paint."

Using sliced peppers, tomato, onions and more, create geometric designs or whimsical flowers. Clusters of sliced cherry tomatoes can become bouquets of appetizing blooms.

Slice toppings about 1/8- to 1/4-inch thick. Dip parsley or cilantro in lemon juice mixed with water, so those leaves will retain their green color during baking.

Then, have fun. Garden-variety focaccia is something the whole family can help create.
A bread machine speeds up the dough-making process. The actual baking takes less than 25 minutes.
Too hot to turn on the oven? This focaccia can be "baked" on the grill.
Garden-variety focaccia
Makes one large loaf
Ingredients:
1-1/4 cups water (room temperature)
2 tablespoons olive oil
3 cups all-purpose flour
1 tablespoon salt
1-1/2 teaspoons sugar
2 teaspoons bread machine or quick-acting yeast
Additional olive oil as needed
Lemon juice, optional
Coarse sea salt
Parmesan cheese, optional
Decorations: Sliced peppers, tomatoes, olives, onions, scallions, mushrooms, parsley or other vegetables and herbs.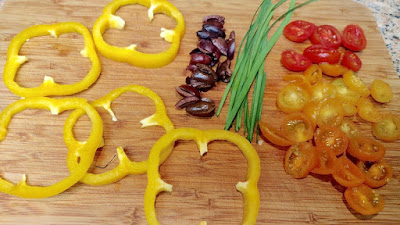 Use a variety of vegetables to "paint" a picture.


Instructions:
In the bowl of a bread machine, combine (in order) water, 2 tablespoons olive oil, flour, 1 tablespoon salt, sugar and yeast. Process dough in bread machine. (Dough also can be made in advance and refrigerated up to 24 hours.)
With olive oil, oil a large rimmed baking sheet. With oiled fingers, gently spread dough onto baking sheet. Don't worry if it doesn't stretch all the way; the dough will spread as it relaxes.

Set the dough and baking sheet aside in a warm place, out of drafts, and let rise until about double in size. (On a warm day, this takes about 20 minutes; on cold days, up to an hour.)

Meanwhile, prepare toppings. Slice peppers, tomatoes, onions, olives or other toppings 1/8- to 1/4-inch thick. Dip any green herbs such as parsley in lemon-infused water.

When ready, pat dough down evenly with your palms. Arrange decorations as desired, pressing the pieces down gently into the dough just a little.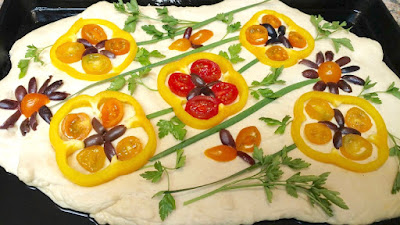 Satisfied with the picture? Brush with olive oil, sprinkle
with salt, and pop it in the oven.
When complete, brush the entire top surface and decorations lightly with olive oil. Sprinkle with coarse sea salt.

Preheat oven to 450 degrees F. Bake focaccia until top is golden brown, about 20 to 25 minutes. Rotate pan front to back in oven after half the time to assure even baking.

Remove focaccia from oven and transfer to a wire rack or bread board to cool slightly. Serve warm with grated parmesan cheese, if desired.