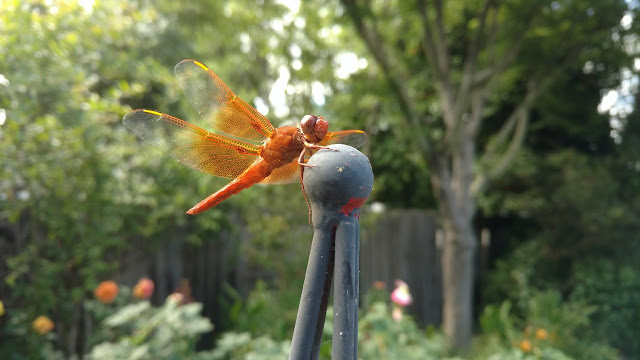 This flame skimmer dragonfly rests on a post, waiting for prey. (Photo: Debbie Arrington)
T
hey eat their fill of mosquitoes and other pests
They only look monstrous -- if you're a mosquito.

Dragonflies seem to be everywhere this spring in Sacramento, and that's a good thing.

This beneficial insect is a major predator of other insects, specifically mosquitos. They're able to pick off those little buzzers in midair. That talent earned dragonflies the nickname "mosquito hawk."

But dragonflies have a larger appetite than just mosquitoes. They'll eat flying or soft-bodied insects of all sorts including flies, ants and moths. That makes them a natural part of garden pest control.

Several species of dragonflies and their smaller cousin damselflies are native to Northern California. Their presence is generally regarded as a sign of a healthy ecosystem.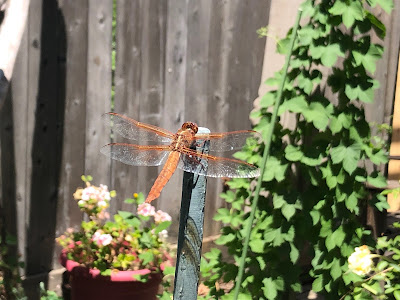 Dragonflies at rest keep their wings apart. (Photo:
Kathy Morrison)
Besides size, the difference between dragons and damsels is how they hold their wings; dragonflies at rest keep their wings apart, while damselflies close their wings like a butterfly.

Both gravitate toward fresh water sources such as ponds and springs, but also like to hang out near backyard pools or fountains.

Nymphs -- immature dragonflies -- live in the mud at the bottom of streams or ponds and eat their full of mosquito larvae and other aquatic bugs.

Once mature, they enter their "flight season" -- usually from May to September. That's why we're seeing so many right now.

Particularly eye-catching is the flame skimmer or firecracker skimmer. About 3 to 4 inches long, this dragonfly is brilliant orange-red from head to tail. The males are totally orange -- including their eyes, legs and the veins in their wings. The females are a lot less flashy -- brown with yellow pinstripes.

Some dragonflies hunt from a perch, sitting and watching for potential prey to fly or crawl by. Then in an instant, the dragonfly swoops down and grabs it.

This is something dragonflies have been doing for many thousands of years. Fossilized dragonflies, looking almost identical to present day descendants, date back to when dinosaurs roamed the continent.

Dragonflies may be among the top predators in the insect world, but they're also somebody else's lunch. Birds like dragonflies, too.