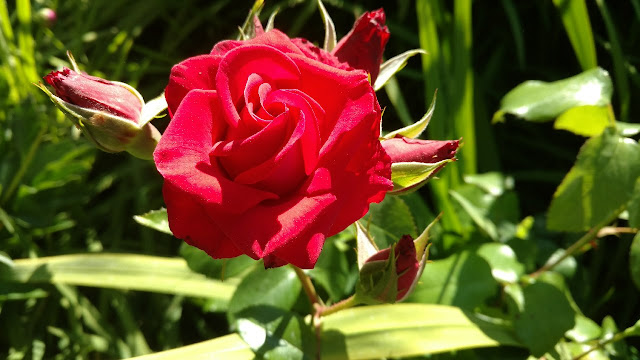 This beauty is called Power Point. Today is National Red Rose Day. (Photos: Debbie Arrington)

Celebrate nation's flower with your own favorites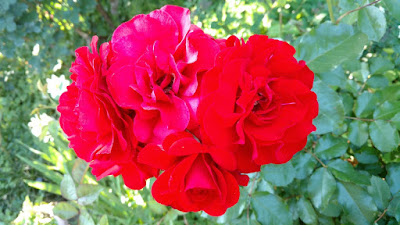 A cluster of Trumpeter roses brightens the garden.

Today, make time to smell the roses or give a bouquet to someone you love.
It's only appropriate – June 12 is National Red Rose Day.
Roses are the birth flower for June, which also coincides with this beloved flower blooming in gardens throughout America. June is also National Rose Month.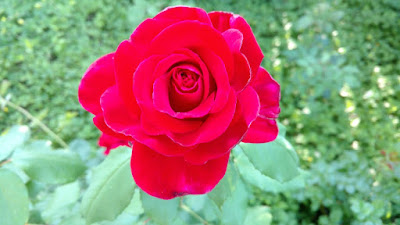 Olympiad was developed for the 1984 Olympics.

The rose is also our nation's official flower, thanks to Congress and a proclamation signed by then-President Ronald Reagan in 1986 in a ceremony – where else? – in the White House Rose Garden.
Red roses in particular hold special meaning as a symbol of love and romance. Red roses also tend to be among the most fragrant in the garden. Some varieties are cultivated specifically for perfume.
In roses, red comes in many hues, ranging from eye-popping scarlet to deepest burgundy.
Garry Chin, president of the Sierra Foothills Rose Society, challenged local rose enthusiasts to send him photos of their favorite red roses for a salute to National Red Rose Day. The results demonstrated the range of red roses that love the Sacramento area.
Some 22 local rose lovers submitted 106 photos with relatively few repeats, Chin said. "Total different varieties of red roses submitted is 73 not counting five photos with unknown names. … Three separate submitters had Altissimo, Fame and Lasting Love; all other varieties had one or two submitters."
One society member sent four versions of "The 1812 Rose."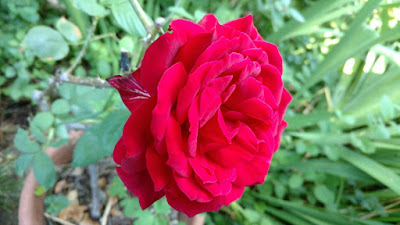 Kentucky Derby is a gorgeous red.
As for my own garden, I have several red roses, of course. Among my favorites: Mister Lincoln (for its incredible scent), Ingrid Bergman, Olympiad, Trumpeter, Veteran's Honor, Kentucky Derby and Power Point.
There's a red rose for everyone. You just need to look – and sniff.
Looking for the perfect red rose – or any rose? Check out the American Rose Society website at
Rose.org
.