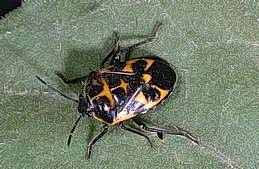 The harlequin bug eats and eats and eats. Heavy infestations will kill plants. (Photos courtesy UC Integrated Pest Management)


This stink bug cousin loves many crops
One day, the dino kale looked fine. The next, white blotches started appearing on the dark green leaves.
Then came the explosion: Hundreds of colorful bugs that looked like mutated lady beetles covered the kale plants – and just those plants. Instead of black dots on red wings, these black bugs were covered with bright orange and red markings.
The harlequins had hatched. Their eggs had been hiding in the textured leaves of the kale. These nymphs were too young to fly, so they had to stay put.
That's when it's time to wipe them out before they can take wing – and attack more plants.
Harlequin bugs are multiplying all over Sacramento. They're making the most of cool-season crops such as kale, cabbage or mustard that have hung around into early summer. Once the eggs hatch, the bugs have something to eat.
And they do eat and eat and eat. A member of the stink bug family, harlequins plunge their feeding tubes into fruit or vegetables, and suck out the juices. Besides deforming the fruit, the enzymes they leave behind makes it inedible. They also feed on leafy greens, causing white or yellow blotches where they ate. Heavy infestations will kill plants.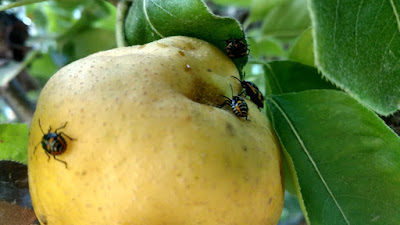 When you find harlequin bugs, knock them into a bucket
of soapy water.
The young ones tend to hang out in clusters or large groups. The nymphs go through several stages, molting four or five times before reaching their adult size and coloring. When full grown, the
Murgantia histrionica
are shiny black with orange, yellow or red markings. Adults are about 3/8-inch long.
Also like other stink bugs, harlequins seem immune to most pesticides. The best control is hand-picking the nymphs off plants and squishing them (with gloves – they do stink). Or knock them into a bucket with soapy water; they can't swim. Pull, bag and discard heavily infested plants.
UC Cooperative Extension master gardeners recommend destroying old kales, cabbages, mustards and other potential host plants so the harlequins don't have a place to hang out. Also clean up weedy spots near fruit trees or garden areas. Those weeds may shelter harlequins.
For more information:
http://ipm.ucanr.edu/PMG/GARDEN/VEGES/PESTS/harlequinbug.html