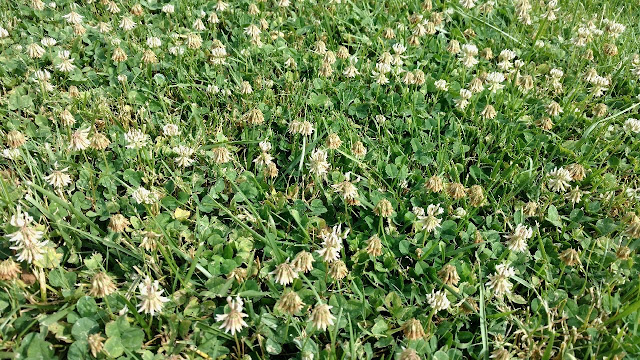 A clover-filled lawn helps the bees and also the soil. (Photo: Debbie Arrington)

White clover adds nectar, nitrogen to lawns
In my lawn, everything's coming up clover, and that's a good thing.
Most turf weed killers target clover; its distinctive leaves stand out in a world of single blades. But clover brings some benefits to that turf space that grasses can't: Food for bees and nitrogen for the soil.
White clover (
Trifolium
) flowers profusely, supplying pollen and nectar to bees. Honeybees love it. White clover actually is a source of popular clover honey. Low-growing Dutch and New Zealand white clover are most popular for lawn use; both varieties blend well with turfgrasses.
Typical turfgrasses provide no such food source to bees. Instead, the monoculture of fescue or bluegrass does little to support beneficial insects. So, clover is a definite plus from the bee perspective.
In addition, clover can thrive in poor soil with less water and tolerates drought better than most turfgrasses. The reason? Clover is a nitrogen-fixing plant, meaning it can supply its own nutrients – and less additional fertilizer is needed.
Clover grows more slowly than turfgrasses, and needs less mowing. It also can grow in shade where grasses often struggle and stays green almost year round.
As a perennial, clover may die back in winter, but re-emerges quickly in spring. One reason clover is so difficult to remove from a lawn: It has deep and hardy roots. That same trait makes it a survivor.
Clover may be a solution for spots where other lawns refuse to grow – or sunny turf spaces, too.
Clover needs less water, less fertilizer, less mowing while helping bees and staying green. That's not a weed; that's a useful plant.
And I feel lucky to have a clover-filled lawn.