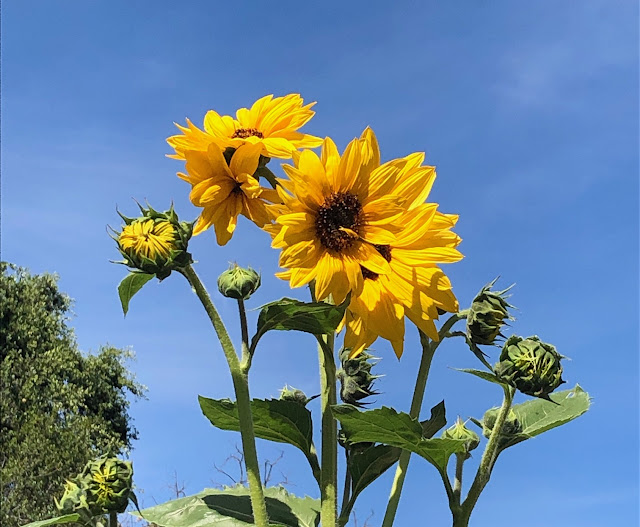 Sunflowers are bustin' out all over, but there's still time to plant them from seed. (Photo: Kathy Morrison)
Summer starts with a heat wave; get ready for more
Welcome to summer in Sacramento! To start this new season, we'll get a taste of the heat to come.

According to the National Weather Service, expect afternoon highs to hit 100 at least three times this week, maybe more. Fortunately, temperatures will cool down into the 60s each night, making mornings very comfortable.

Plan on getting out early to beat the heat:

* Let the grass grow longer. Set the mower blades high to reduce stress on your lawn during summer heat. To cut down on evaporation, water your lawn deeply during the wee hours of the morning, between 2 and 8 a.m.

* Tie up vines and stake tall plants such as gladiolus and lilies. That gives their heavy flowers some support.

* Avoid pot "hot feet." Place a 1-inch-thick board under container plants sitting on pavement. This little cushion helps insulate them from radiated heat.

* Thin grapes on the vine for bigger, better clusters later this summer.

* Deep-water tomatoes, peppers, squash and other summer veggies.

* Cut back Shasta daisies after flowering to encourage a second bloom in the fall.

* Trim off dead flowers from rose bushes.

* Pinch back chrysanthemums for bushier plants with many more flowers in September.

* Transplant petunias, snapdragons, zinnias and marigolds.
* From seed, plant beans, corn, pumpkins, radishes, winter squash and sunflowers.