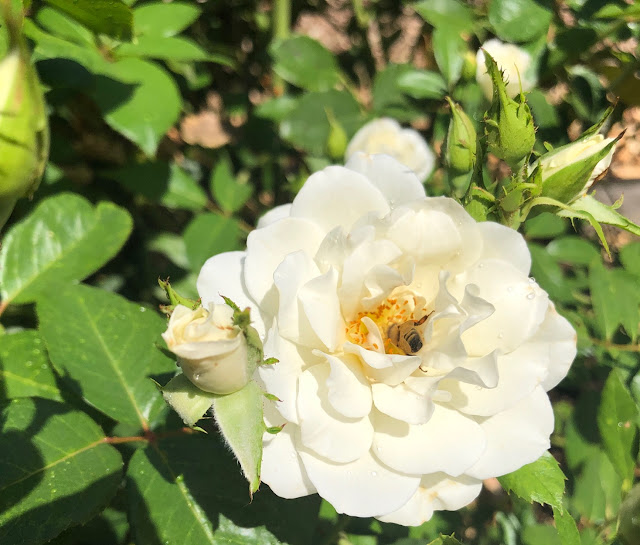 Bees are back to buzzing with the cooler weather. (Photos: Kathy Morrison)
Month ends with cooldown and 'normal' conditions
The breeze is back and with it cooler weather.

After five consecutive triple-digit days (including 104 degrees on Friday), Sacramento will see several days in the lows 90s or even the 80s -- in other words, normal for the last week in June, according to the National Weather Service. Sacramento's average high temperature for this time of year: 92 degrees.

What does this mean for your garden? Tomatoes, peppers, squash and other summer favorites will start setting fruit again. Tomatoes already on the vine will ripen normally. Bees will be active.

And so will gardeners; there's a lot to do!

* Keep your vegetable garden watered, mulched and weeded. Water before 8 a.m. to reduce the chance of fungal infection and to conserve moisture.

* Water, then fertilize vegetables and blooming annuals, perennials and shrubs to give them a boost. Feeding flowering plants every other week will extend their bloom.

* Harvest vegetables promptly to encourage plants to produce more. Squash especially tends to grow rapidly in 90-degree weather. Keep an eye on zucchini.

* Remove spent flowers from roses, daylilies and other bloomers as they finish flowering.

* Plant petunias, snapdragons, zinnias and marigolds.

* From seed, plant corn, pumpkins, radishes, winter squash and sunflowers.