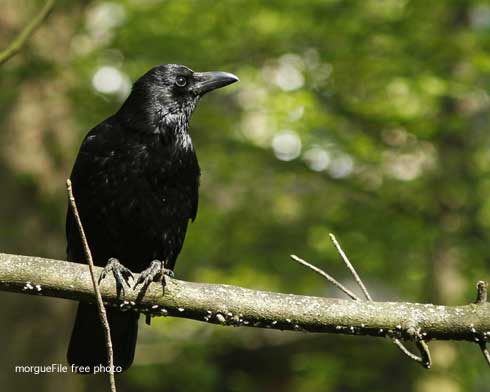 Birds are the early warning of the presence of West Nile virus.  (Photos courtesy UC Integrated Pest Management)
Mosquitoes spread it; take precautions when outdoors
Seen any dead birds in your neighborhood?
West Nile virus is back again this summer, with positive test samples found in 11 California counties including Sacramento. As of June 26, the state reported 92 positive mosquito samples and 19 dead birds containing the virus. Six dead birds were reported in Sacramento County just last week, bringing the total to seven for 2020 – the most of any county in the state.
The first human case in California this year was reported last week in Stanislaus County.
Transmitted by mosquito, West Nile virus is a potentially fatal disease that's affected California since 2003. Last year, 225 human cases were reported in our state including six deaths.
Since it was first detected in California, West Nile virus has infected more than 7,000 people and caused 709 deaths in our state.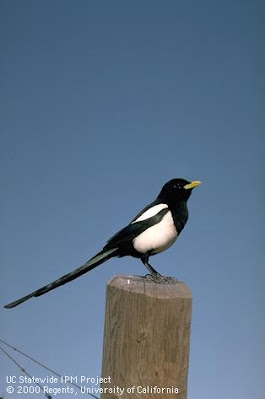 Yellow-billed magpies are among
favorite Sacramento-area birds. Report
any dead birds at fightthebite.net
Sacramento County's first 2020 mosquito sample with the virus was collected on Bond Road near Highway 99 in Elk Grove, according to the Sacramento-Yolo Mosquito and Vector Control District. Other positive samples have been found in 95628 (Fair Oaks) and 95829 (Vineyard) zip codes. The first dead bird of the season – a California scrub-jay – was found in Carmichael. Other dead birds included crows and yellow-billed magpies.
"As we expected, the very warm weather we've had recently increased the number of mosquitoes and accelerated virus activity," said Gary Goodman, district manager. "It's important for residents to take these findings seriously and do everything they can to protect themselves."
As a result of recent finds, the district will increase its monitoring and may soon start targeted ground spraying.
In the meantime, Sacramento County residents are urged to be on mosquito alert. Wear mosquito repellent when outside. Experts also urge people to wear long sleeves and long pants when outdoors, and avoid being outside at dawn and dusk when mosquitoes are most active. Drain potential mosquito breeding areas. Report neglected or abandoned pools and ponds.
And report dead birds. Call 1-800-429-1022 or visit
www.FIGHTtheBITE.net
Want to know more about the spread of West Nile virus? See tracking details and latest reports statewide:
westnile.ca.gov
.