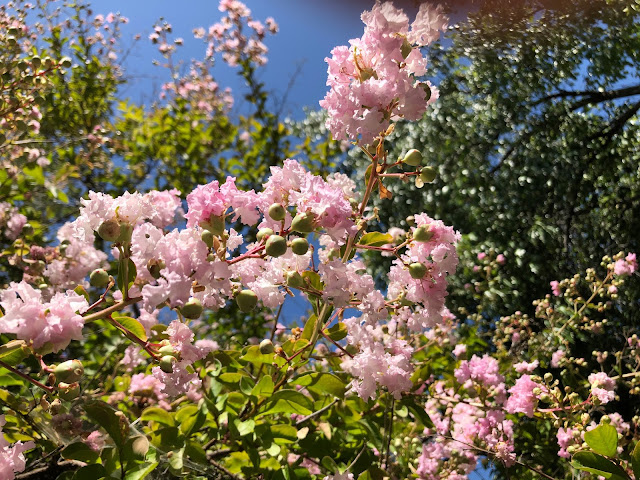 Crape myrtle trees add color and dappled shade to so many Sacramento-area yards in summer. (Photos, except where noted: Kathy Morrison)
Crape myrtle and others are colorful delights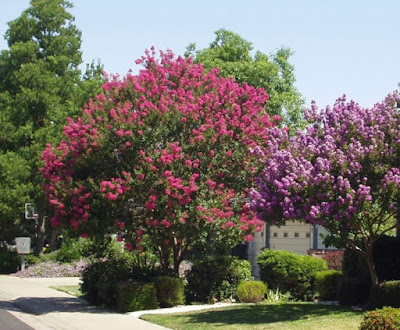 Raspberry and purple crape myrtles brighten this street.
(Photo courtesy Sacramento Tree Foundation)
On a hot summer day, when everything outdoors seems slightly fried,  it's so refreshing to turn a corner and see a crape myrtle tree in full raspberry-tressed glory.
They grow so well here, standing up to heat and drought, that they've almost become a cliché. I know, I know, some people don't like the "snow" of crepe-y flowers, but these are great trees for our region: Low water needs, compact size, fall color and that gorgeous bark. Well-behaved roots, too.  The Sacramento Tree Foundation includes the crape myrtle (
Lagerstroemia indica
) among its
Shady Eighty
, and it's available as part of the SMUD tree program.
Crape myrtles got me thinking about a few other "cliché" flowering plants --- none of them California natives --- that keep our summers from being bloomless: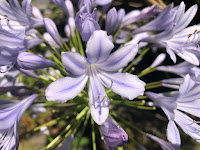 Agapanthus blossoms entice pollinators, too.


-- Agapanthus, also called lily of the Nile (
Agapanthus africanus
). But it's not a real lily. The ultimate local landscaping cliché is a clump of these periwinkle-flowered shrubs planted under a crape myrtle! They're hardy and require little maintenance, just needing to be divided every few years. And when they're not blooming, they fade into the background with their strappy green leaves.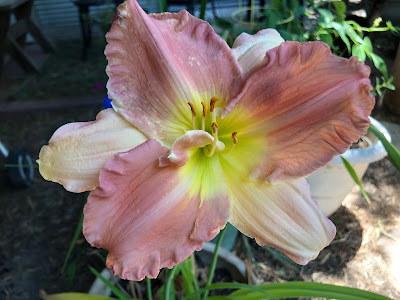 Daylilies are so gorgeous, worth growing even if the beauty
is fleeting. Below, gazania blossoms are favorites with native bees.
Bottom, lantana is popular in my neighborhood, with good reason.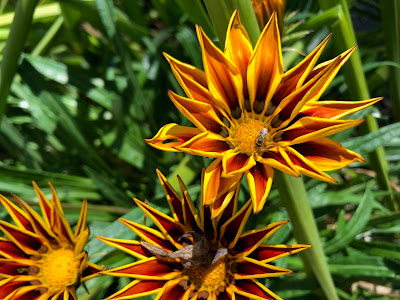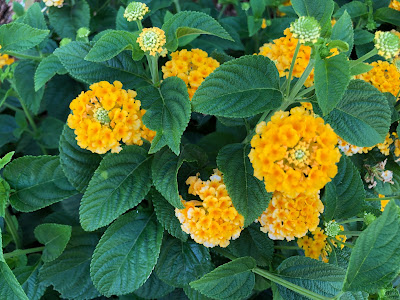 -- Daylilies (
Hemerocallis
spp.). These also aren't real lilies. The showy blooms of these tough perennials come in so many different color variations, but around town you're most likely to see the gold ones called 'Stella de Oro.' The Amador Flower Farm, in Amador County's Shenandoah Valley, specializes in daylilies; the farm's
website
offers lots of information on cultivars and growing requirements. Like agapanthus, they need dividing every few years -- free plants!
-- Gazanias ( Gazania rigens ). I'd grow these flowers even if their only good point was their attractiveness to bees. But the daisy-like blooms stand up to heat, come in many colors and reseed easily if you let them. I have clumps in my front garden that have survived years with very little maintenance.
-- Lantana ( Lantana camara and L. trifolia , in particular.). Clumping shrubs with many variations in bloom color, lantanas are another favorite with pollinators, especially butterflies. Many cultivars are available. They can be frost-sensitive, but I kept one alive for many winters by using a little frost blanket. They also do well as potted plants.