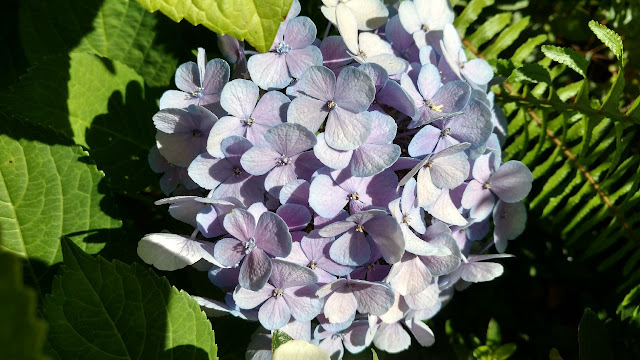 Blue hydrangeas are just starting to bloom. (Photos: Debbie Arrington)

This flower hue adds vibrance to summer landscape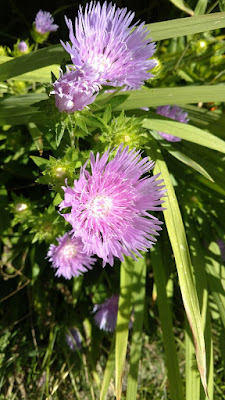 Stokesia comes in many cool
shades.
Blue ranks among the rarest colors in the summer garden. Yet it's a beautiful contrast to all of July's other brilliant colors, especially yellow and orange.

Blue stands out in the landscape, immediately drawing your attention. Bees seem to gravitate to it, too.
The one trait most blue flowers share is they contain anthocyanin, the same pigment that makes blueberries blue.

As an accent or in broad borders, blue blooms complete a flowery summer rainbow. An Independence Day bouquet wouldn't have the same sparkle without some blue.
Just in time for Fourth of July and midsummer, here are the blues blooming in my Sacramento garden right now:
Hydrangeas: My true blues are just coming into their bloom cycle. By late July, they'll be covered with great soft mounds of baby blue. Formerly pink hydrangeas can go blue, too, by slightly increasing the acidity of their soil.
Stokesia: This low-growing perennial blooms from early July until frost. It comes in several shades of vivid blue from powder to deep cobalt. My variety: Blue Frills from Proven Winners. It contrasts beautifully with orange coppertips (
Crocosmia
) and yellow daylilies. Stokesia also makes a good cut flower; pair it with white daisies and red roses or gladiolas for a charming red-white-blue bouquet.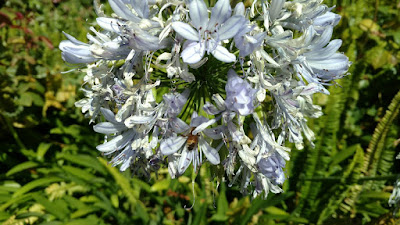 Agapanthus blossoms attract bees.

Lilies of the Nile: My huge agapanthus clumps came with the house. But the bees love them, so they stayed put. Every Fourth of July, the gigantic flowerheads look like blue fireworks exploding among the roses. Another plus: They make good cut flowers and add the blue to my Independence Day bouquets. The dried stems also are attractive in arrangements.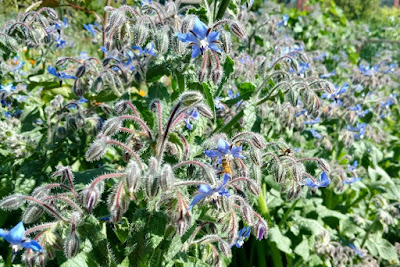 Borage, a blue herb, has edible flowers.

Borage: This blue herb is a bee favorite in my vegetable garden and the intensely blue (and slightly spicy) flowers are edible. Use them as decorations on cakes and cupcakes.