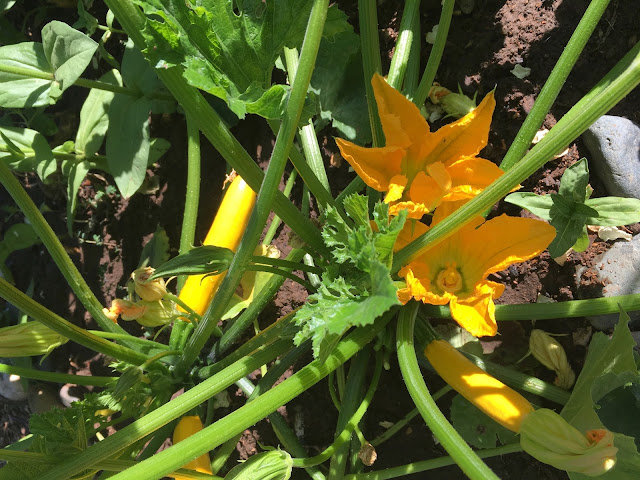 See the largest open squash flower on the right? That's a female flower. All the flowers on the long stems are male. Fully open male blossoms work best for hand-pollinating. Best time to do this is in the early morning. (Photos: Kathy Morrison)

Use a paintbrush to hand-pollinate
Tomato vines aren't the only plants in the vegetable garden that could use a hand in pollination. Squash, pumpkins, cucumbers and melons are having problems, too.
Again, this is mostly weather-related. Bees and other pollinators don't like to work in hot weather.
Or the bees may be having a hard time finding your squash and melon vines, especially if they're surrounded by non-flowering plants.
Tomato vines may need only a gentle nudge to shake loose pollen and fertilize flowers. (See
Monday's post on tomatoes
.) Squash take a little more effort.
That's because members of the cucurbit family (squash and all its cousins) have distinctly male and female flowers on the same plant. The pollen needs to get from the male blooms to the female flowers, usually with the help of bees.
When bees don't do the job, pick up a paint brush and give pollination a hand.
A soft-bristled artist's paintbrush, such as a watercolor brush, is perfect for this job.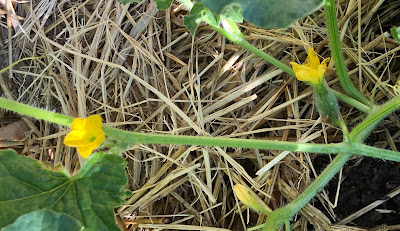 Melon blossoms are smaller than squash ones but work
on the same principle.
First, determine which flowers are which. The female flowers have an obvious swelling at their base. That's the baby fruit, waiting to be pollinated. In the center of that flower, the female stigma will be prominent and clearly visible.
The male flowers have no swelling at their base and they're filled with pollen-topped stamens.
Take the paintbrush and lightly swish it around those bright yellow stamens. The brush will quickly be covered with yellow dust; that's the pollen.
Then, open up the female flower and gently stroke the stigma with the pollen-covered brush. That's it; you've pollinated the flower.
Do this over and over until all the female flowers have been "dusted" with your pollen paintbrush.
If you don't have a brush, try this alternative: Remove a male flower and pull back the petals to expose the stamens. Then, use the stamens to "paint" their pollen onto the female flower's stigma.
Either way, baby squash (or melons or cucumbers or pumpkins) will soon be on the way.