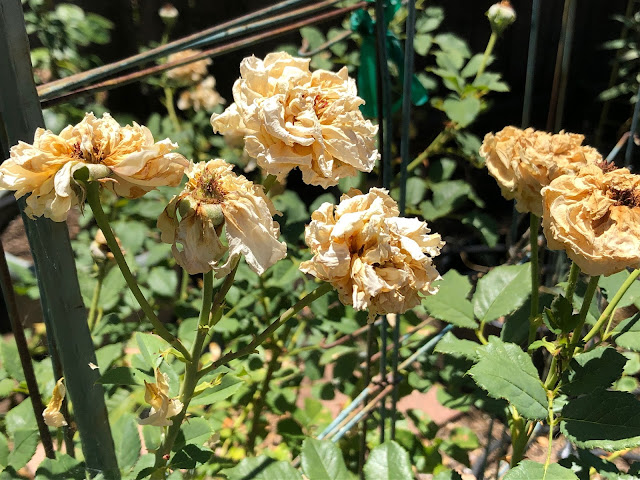 Are you feeling as fried as these roses? We are, too. And these need to be deadheaded.
(Photos: Kathy Morrison)

Normal nights help gardens cope with heat
Hot days, comfortable nights; that's our weather pattern for mid-July.

According to the National Weather Service, Sacramento will continue to hit triple digits at least through Tuesday before settling back down into the low to mid 90s.

Fortunately, our overnight temperatures will keep dipping down to about 62 degrees -- normal for July. So, while days may reach 10 degrees above our mid-July average high of 92, those normal nights will refresh plants -- and us.

Those cooler nights also help keep soil and roots comfortable, too.

Until cooler days, concentrate on that comfort factor: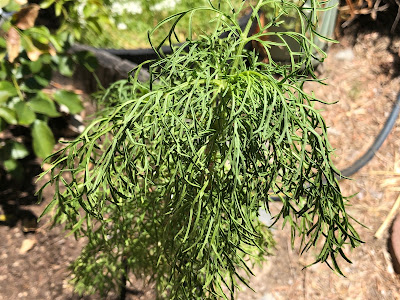 That's one droopy cosmos. Plants protect themselves in heat by
drooping, but keep them well-watered and they'll snap
back overnight.
* Keep plants hydrated but not soggy. Too much water can harm plants, too; check your moisture levels.
* Water early, preferably before 8 a.m., to cut down on moisture loss.
* Deep water trees, shrubs and perennials. Let the moisture soak in.
* Refresh your mulch. Cover bare spots. Don't let it pile up around trunks or main stems.
* Pick up fallen fruit; it attracts pests and problems.
* Pinch back chrysanthemums for bushy plants and more flowers in September.
* Harvest tomatoes, squash, peppers and eggplant. Prompt picking will help keep plants producing.
* Remove spent flowers from roses, daylilies and other bloomers.
* Pinch off blooms from basil so the plant will grow more leaves.
* Cut back lavender after flowering to promote a second bloom.
* From seed, plant corn, pumpkins, radishes, winter squash and sunflowers. Make sure seeds stay evenly moist.