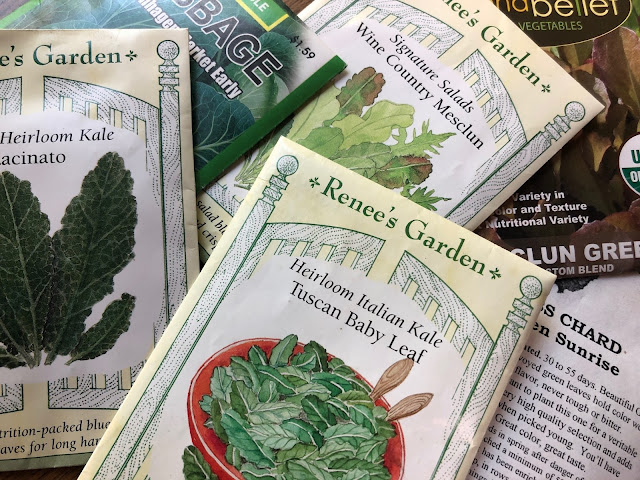 Believe it or not, it's time to start thinking of cool-season vegetables. (Photo: Kathy Morrison)
Start cool-season favorites such as lettuce and kale
In the heat of mid-summer, it's time to think cool -- as in cool-season vegetables.

Get a jump on fall and winter by starting seeds indoors. Such favorites as lettuce, kale, chard, broccoli, cabbage and cauliflower benefit from a head start before transplanting into the vegetable garden.

These seeds need warmth to sprout -- but not too much. Lettuce, for example, won't germinate if soil temperature is above 80 degrees. But a comfortable spot in the 70s on your kitchen counter will help them sprout right away.

These baby veggies can be moved quickly outside, but keep them sheltered from hot afternoon sun. Let them grow their first few leaves while sitting in the shade.

As they grow bigger and stronger, these transplants can move into the vegetable garden, replacing spent summer crops. If possible, give them some afternoon shade by planting them in the shadow of larger plants such as tomatoes or peppers. When those tomatoes are done, the cool-season replacements will be ready to take over their space.

Cool-season veggies also can act as living mulch. Sow leaf lettuce directly in the soil around peppers and eggplant. The lettuce will benefit from the shade of the taller plants while keeping the soil cool. It helps the peppers and eggplant while also helping the baby lettuce.

The key to success with these early cool-season veggies: Water. They need consistent moisture while germinating and during early development. Once established, these transplants can get by with deep watering once a week. Double that during triple-digit days in late August and September.

How soon until harvest? Leaf lettuce can be picked as soon as 30 days. Head lettuce needs longer, usually 55 to 60 days. Broccoli, cabbage and cauliflower can take 60 to 180 days to reach maturity, depending on variety -- another reason to get an early start.