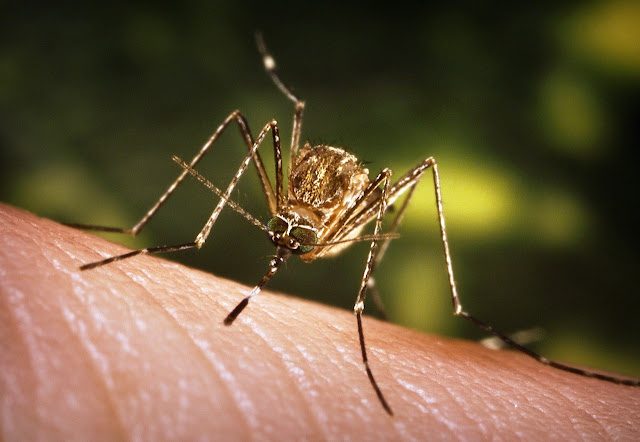 Cutline: Beware of mosquitoes; they're most active in early morning and at dusk. (Photo courtesy CDC)






It may be August, but it's no time for shorts and tank tops – especially if you're outside in the early morning or at dusk. Remember insect repellent, too. Mosquitoes are biting!
This is prime mosquito weather. Not only are their bites annoying; they could be dangerous.
West Nile virus cases again appear on the rise with a new spike in activity in Yolo County. According to the Sacramento-Yolo Mosquito and Vector Control District, nine mosquito samples and two dead birds tested positive for the disease in both urban and rural locations throughout the county.
"We are closely monitoring and keeping an eye on the City of Davis since West Nile has been detected within city boundaries and in the surrounding areas," said district manager Gary Goodman on Wednesday.
Mosquitoes love temperatures in the 90s or hotter. "We are still in the middle of summer and conditions are right for mosquitoes to continue breeding and posing a threat for disease transmission," added Goodman. "We must not let our guard down now and we should continue taking all the necessary precautions such as dumping stagnant water from around our home and wearing insect repellent while spending time outdoors."
Emptying water that has accumulated under pots or dabbing on some DEET before morning exercise may be small actions, but they're important in the fight against West Nile virus.
"Both of these actions are critical to protect our health from West Nile," said Goodman, noting the continued threat of this mosquito-borne disease. Throughout Sacramento County, West Nile virus activity has also remained "steady," according to the district.
Areas of concern include Carmichael, Fair Oaks, Arden-Arcade and other locations north of the American River Parkway where many mosquito samples have also tested positive this season.
Through Aug. 7, 42 dead birds total and 27 positive mosquito samples have tested positive in Sacramento County for West Nile virus.
More than 150 species of mosquitoes can carry West Nile virus. California is home to about 50 species, not all of which can carry the virus. The most likely carriers here are active during warm months, from May through October.
There are no vaccines for West Nile virus. Fortunately, most people infected do not get seriously ill. But one in five develop fever and other symptoms, according to the Centers for Disease Control and Prevention. And one in150 people infected develop a serious, sometimes fatal illness.
West Nile virus is a serious threat to horses, which account for almost 97% of all non-human mammalian cases of the disease. The virus is the leading cause of arbovirus encephalitis in horses.
With the ongoing threat of West Nile virus, the Sacramento-Yolo district will continue surveillance efforts, testing mosquitoes for virus, treating mosquitoes in all known sources and performing adult mosquito control as necessary throughout parks, neighborhoods and other agricultural sources in areas where the mosquitoes have tested positive.
For current information about district activities, visit
www.FIGHTtheBITE.net
or call 1-800-429-1022.