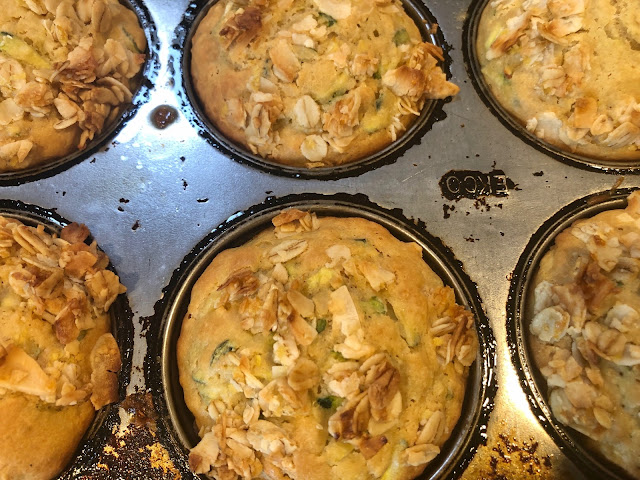 Just a bit of topping adds interest to these lemon zucchini muffins. (Photos: Kathy Morrison)
For all the thousands of muffin recipes out there, not all that many balance nutrition with morning comfort.
I've baked a lot of muffins over the years, always looking for new recipes for whatever produce I have in the house. What I find often leans heavily on butter and sugar, the fresh produce buried under a nut/sugar/butter streusel topping.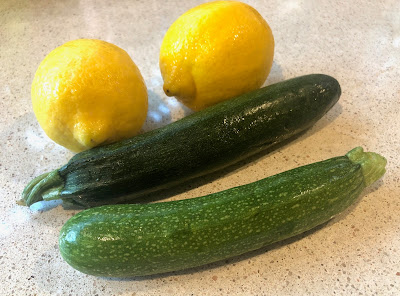 The key ingredients. I wound up adding a half of another
medium zucchini to reach 2 cups of shreds.
Zucchini is still big here at Produce Management Central. I have a fabulous chocolate zucchini muffin recipe (basically
chocolate zucchini bread
baked in muffin tins) but was open to something different. I ran across a lemon zucchini cookie recipe, which made me think there must be versions of lemon zucchini muffins out there. Indeed, even
King Arthur Flour has one
, although the zucchini plays a very small role in that.
But the recipe that intrigued me most shows up on iFOODreal.com , a lemon zucchini muffin with a topping that is not streusel: It combines lemon zest, coconut flakes, honey and rolled oats, and not too much of any of that. A bit of coconut oil helps hold the topping together. So I adapted this recipe based on what I had on hand and what I know about making muffins.
Note: The sour cream or yogurt is an important part of the leavening process in this recipe. And nonfat sour cream or yogurt won't work here -- you need a little fat to help hold the muffin together.
The recipe didn't use up all the zucchini in my vegetable drawer, but it does boast whole wheat flour and no refined sugar. I chose whole wheat pastry flour because I had it, but regular will work fine, too. Next time I might mix some coconut into the batter, or maybe some bits of uncrystallized ginger.
In any case, the resulting baked good is light and delicious, perfect for a morning treat alongside a cup of coffee or tea.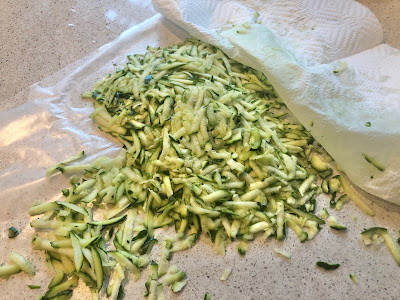 Pat the shredded zucchini with a paper towel or kitchen towel

to remove some of the moisture.




Lemon Zucchini Muffins

Adapted from iFOODreal.com

Make 12 muffins

Ingredients:

2 eggs

1/2 cup sour cream or yogurt (Greek or regular, but not fat-free)

1/2 cup agave, honey or maple syrup

2 tablespoons liquid coconut oil or a neutral vegetable oil

Zest and juice of 1 large lemon

2 cups shredded zucchini, about 8 ounces before trimming, lightly patted to remove some moisture

2-1/3 cups whole wheat pastry flour or whole wheat flour

2 teaspoons baking powder

1/2 teaspoon baking soda

3/8 teaspoon salt

Topping:

1/4 cup rolled or quick oats

1 tablespoon honey or agave or maple syrup

1 tablespoon coconut oil (liquid)

Zest of 1 large lemon

3 generous tablespoons unsweetened coconut flakes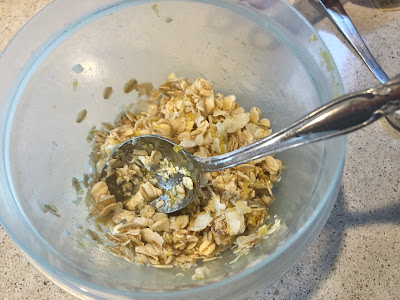 This topping augments, doesn't dominate the muffin. A fork

would work better to combine it than the spoon I used.

Instructions:
Preheat oven to 350 degrees. Grease a 12-cup muffin tin with oil spray.
In a large bowl, whisk the eggs briefly, then stir in the sour cream or yogurt,  whatever liquid sweetener you're using,  the oil and the lemon zest and juice, until thoroughly blended. Fold in the zucchini shreds.
In a smaller bowl, stir or whisk together the flour, baking powder, baking soda and salt. Set aside while you make the topping.
In another bowl, use a fork to stir together the oats, honey (or other liquid sweetener), coconut oil, zest and the coconut flakes.
Now that the topping's ready, finish the batter by gently blending the flour mixture into the egg-zucchini mixture, stirring just until the dry ingredients are moistened. Lumps are OK.
Fill the muffin cups evenly; they'll be quite full. (You'll notice that the baking soda quickly reacts with the lemon juice and sour cream or yogurt, so don't tarry in filling the muffin cups with batter or you'll lose all that wonderful leavening action.)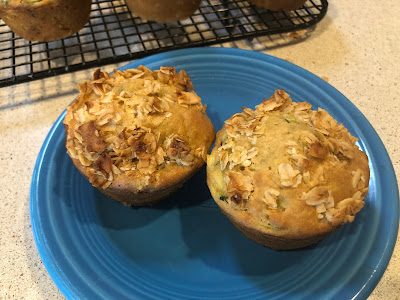 Moist and tasty muffins, ready to enjoy.

Sprinkle the topping over the muffins. Bake for 22-25 minutes until the tops are golden brown and the batter tests done. (It should spring back from a light tap.)
Remove pan from oven and allow muffins to cool for at least 5 minutes before removing from pan.