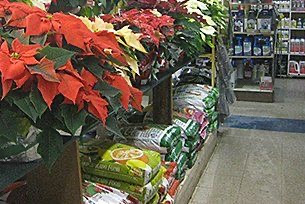 Eisley's poinsettia-growing program will be retained
under the new Green Acres ownership.
(Photo courtesy eisleynursery.com)
With the pending purchase of Eisley Nursery, two family businesses came together very quickly. After all, they had a lot in common.
"From the family aspect, their dynamic is exactly like ours – I'm just 30 years younger," said Travis Gill, co-owner of Green Acres Nursery & Supply. "They work with each other every day, same as my family."
Travis Gill, sister Ashley Rossi and dad Mark Gill own Green Acres, which has become the major retail nursery business in the greater Sacramento area. Founded in Roseville in 2003, Green Acres already has five retail locations plus Matsuda's, its growing operation.
With the purchase of Eisley Nursery in Auburn, Green Acres gets another successful nursery and growing operation plus a big chunk of history.
Founded in 1932 as the Pansy Nursery, Eisley Nursery has been family-run in the same location for three generations.
"We have the utmost respect for the Eisley family, and are both humbled and honored to be included in the next chapter of their history," said Mark Gill in his company's official announcement.
"It's an institution, a piece of the community," added Travis Gill, who visited Eisley's on Thursday. "Now that the news is out, customers are flooding in, looking for hugs. It's that kind of a place."
The whole deal came together in "just 45 days," Travis Gill explained in a phone interview.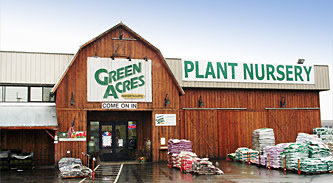 Green Acres started in Roseville and now includes five stores
plus its growing operation at Matsuda's. Eisley's will be its
sixth retail location. (Photo courtesy idiggreenacres.com)
"We've always had a friendly relationship," he said, noting that Green Acres buys a large percentage of its vegetables and annuals from Eisley's. "When we opened our Rocklin store, we told them we weren't coming to Auburn; we weren't going to go up (against) them."
Then, Bill Eisley called the Gills in early July and said the family was thinking of retirement. The two families gathered at the childhood home of Bill and Earle Eisley on Aug. 12 and came up with a plan.
"It was an incredible thing," Travis Gill added. "We're happy to see them get a chance to put their feet up a little bit, something they haven't done much in the last 70 years."
The Eisley family is retaining the property; several family members live on its 14.7 acres. Green Acres will lease the nursery's facilities.
Gill expects at least some of the Eisleys to continue to work at the nursery and greenhouses.
"We'd love to have them," he said. "They'll continue to work with us in whatever capacity they feel comfortable. We're invested in them and finding the right spots in our organization."
Expected to retain much of its current charm, the Eisley Nursery will be unique among Green Acres' stores, he said. "We're still not sure what we're going to call the nursery. That's a big question. It won't be a typical Green Acres. It's going to keep its funky-foothills Auburn vibe."
The free popcorn is staying, for sure. "Actually, we're thinking about adding popcorn to all our stores now," Gill said.
Poinsettias are staying, too. "They're already on the grounds," he said. "The clay-pot poinsettia program will go on."
Green Acres will focus on Eisley's vegetable production, Gill noted. The Auburn nursery already grows thousands of seedlings in its greenhouses.
"It all starts with the plant, and the quality of the product," Gill said, noting that Eisley's has always been known for its high-quality plants. "Vegetables will part of our focus right out of the gate."
After the sale closes this fall, Green Acres will expand parking to about 150 spaces, more than double the current lot; that will be the most visible initial change for customers.
Meanwhile, expect a close-out sale and a lot of thank-yous.
"We're giving the family some time to say their goodbyes," Gill said. "This has all happened so fast."